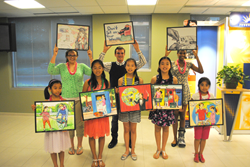 We are excited to promote arts in the schools with worthwhile programs such as this one.
Lake Mary, FL (PRWEB) May 30, 2014
CFE Federal Credit Union presented eight Central Florida students over $4,000 in prize money for being selected as one of the winners of the Education Guide Art Contest. CFE sponsored this art contest in which students of all grades from Orange, Lake, Osceola, Seminole, and Volusia counties were invited to submit artwork based on the theme "The Importance of Savings for a Brighter Future".
Judging of the artwork was based on 4 groupings: Kindergarten-2 grade, 3-5 grade, 6-8 grade, and 9-12 grade. Of the over 925 entries, forty finalists – the top 10 in each group – and their families were invited to a special reception event where the students were recognized and the winners announced. The four first place winners were awarded $500 each and 4 second place winners received $250.
"We are excited to promote arts in the schools with worthwhile programs such as this one," said Joseph A. Melbourne, Jr. President, and CEO of CFE. "The quality of artwork submitted this year, by all of the students, is truly outstanding. The art teachers should be proud of the work these students have accomplished."
A number of the art entries submitted will be showcased in a unique school calendar that CFE creates and distributes specifically for Orange and Osceola County school district employees. CFE plans, once again, to sponsor the 2014-2015 Art Contest to be introduced in the fall.
CFE Federal Credit Union was founded in 1937 by 23 educators. The credit union currently serves 133,000 members and has more than $1.4 billion in total assets. Membership eligibility includes anyone who lives, works, attends school, volunteers, or worships in Orange, Osceola, Lake, or Seminole County. Qualified businesses and other legal entities may also join. The credit union serves its members at 20 full-service branches, five high school branches, 38 ATM locations and 24-hour Internet access. CFE is recognized as a Top 25 Company for Working Families by the Orlando Sentinel.
CFE owns the naming rights for the CFE Arena on the University of Central Florida campus and is the official financial institution of the UCF Knights.