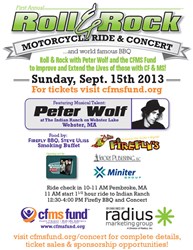 Norwell, MA (PRWEB) August 30, 2013
Miniter Group today announced it will help sponsor the CF & MS (Cystic Fibrosis & Multiple Sclerosis) Fund Foundation's 1st Annual Motorcycle Ride & Concert Fundraiser on September 15th, 2013. The event will start with a motorcycle ride starting in Pembroke, MA then through the Massachusetts countryside to the Indian Ranch in Webster, MA where participants can enjoy music and BBQ. The event will conclude with a concert performance by Peter Wolf of the J. Geils Band. All proceeds from this event will help extend the lives of those living with cystic fibrosis and multiple sclerosis.
Julianne Donley, President & CEO of Miniter Group commented earlier today:
"We are very excited to help sponsor this wonderful event. The CF & MS Fund Foundation is a great organization helping many people who live with cystic fibrosis and multiple sclerosis. Giving back to the community is an important priority for our company and we would like to thank Radius Marketing Group for introducing this event to us."
For more information on this event and how to participate please visit cfmsfund.org
For more information on Radius Marketing group, visit radiusmg.com
Miniter Group is a leading provider of collateral risk transfer solutions to the lending industry. Miniter Group provides blanket and lender placed insurance solutions to over 550 lenders in 45 states. Their in-house software development created their Borrower-Centric Insurance Tracking System in 2006. Miniter's solutions include Vendor Single Interest Insurance, Lender Placed Insurance, Collateral Protection Insurance and Mortgage Impairment Insurance.
We invite you to call us at 1-800-MINITER or visit us on the web at http://www.miniter.com.