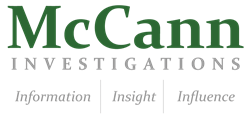 We're happy to add our already expansive embezzlement investigations services in Houston
Houston, TX (PRWEB) January 23, 2014
McCann Investigations, a firm in Texas that provides digital security and surveillance services, announced that it added controller/CFO embezzlement investigations to its set of fraud investigation services in Houston.
Embezzlement is a crime that deals with the deliberate withholding of assets with an intent to convert those assets for personal gain. The person who is accused of embezzlement is typically someone who has been entrusted with controlling or managing those assets in some way.
"We're happy to add to our already expansive embezzlement investigation services in Houston," said Daniel Weiss, Managing Partner at McCann Investigations. "When high-profile executives are accused of embezzlement, it instantly adds a set of complications to a case that only the most highly trained digital security and investigations professionals can overcome. Our team is absolutely prepared to handle these types of cases."
Controller/CFO embezzlement refers to specific embezzlement cases where a person in charge of a company's finances (such as a Chief Financial Officer) is the person accused of the crime. While the definition of embezzlement remains the same in these cases, they do become more complicated simply due to the high-profile nature of the accused party's position. Additional media scrutiny and legal pressure are often present in such cases, and so investigators must be able to work in a higher pressure environment to uncover the evidence needed to determine the truth of the situation.
"Our team is prepared to do whatever it takes to uncover the truth, whether it means restoring the reputation of a client or finding evidence of guilt," said Weiss. "With their unique set of skills and their experience in their field, our analysts are Houston's go-to source for embezzlement investigations."
For more information about the services provided by McCann Investigations in the Houston area, visit the company's website at http://www.mccanninvestigations.com and follow the company on Twitter at @mccangi.
About McCann Investigations
McCann Investigations is a Texas-based private investigations practice focused on comprehensive investigations incorporating digital forensics, surveillance, undercover work and background checks for clients in various case types. Service areas include intellectual property theft, non-compete enforcement, fraud, embezzlement and family law. McCann Investigators are experts in the latest computer forensics tools and are licensed with the state of Texas. McCann examiners have provided expert testimony and reporting in hundreds of cases across the state.