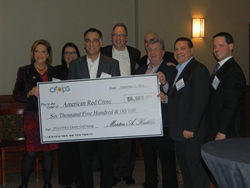 (PRWEB) February 10, 2015
The CFO Leadership Group (CFOLG), a private group dedicated to the advancement and professional development of Chief Financial Officers, has announced a donation of $6,500 to the American Red Cross of Chicago and Northern Illinois at the CFOLG's quarterly networking event.
Ventiv Technology Incorporated CFO and Chair of the CFOLG Golf Committee Nick Pessimisis presented the donation of $6,500 on January 29 to Major Gift Officer of the American Red Cross Mary Novak. This gift is the result of an annual CFOLG charity golf outing held on September 11, 2014 at Bridges of Poplar Creek Hoffman Estates.
"Throughout the years, The CFO Leadership Group has received a great deal of support from professionals in finance, and we are proud to give back to the community through this generous gift," said John Liacone, Managing Partner of the Overture Group and CFO Leadership Group founder. "We are pleased to present this gift to the American Red Cross, who works tirelessly to provide compassionate care to those in need."
About the CFO Leadership Group Chicago
Since 2009, the CFO Leadership Group has been more than a networking group, but an information resource and best practice center for its members. With bi-weekly meetings, guest speakers, and quarterly networking events, the CFOLG has become an elite group of financial executives by creating strategic alliances with bankers, lawyers, insurance brokers, high level consultants, accounting firms and other well networked "trusted business advisors" that can be of benefit to the members and each other.
About The Overture Group
The Overture Group is a premier Midwest professional/executive search and placement firm headquartered in Lisle, IL. With its genesis in the fields of accounting and business consulting, The Overture Group primarily serves private equity and middle market organizations in the fields of finance, accounting, human resources, operations and technology. The company is a member of the American Institute of CPA's (AICPA), Financial Executives International (FEI), Illinois Manufacturers Association (IMA), Society of Human Resources Management (SHRM) and Vistage. The Overture Group operates an additional office in Cedar Rapids IA.
For more information, please call 630-352-4029, visit their website at: theoverturegroup.com,
or connect on Facebook, LinkedIn, Twitter, YouTube and Google +.