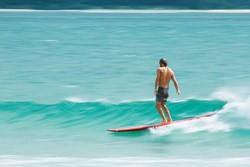 I'm thankful that companies like prAna exist and believe in what I'm doing, so that I can share my stories through them.
Carlsbad, CA (PRWEB) January 16, 2014
California surfer Chadd Konig, known for raising awareness about ocean issues with physical feats that include long-distance paddling voyages, and for his work with the non-profit organization Surf for Life, has joined prAna as its latest ambassador.
"We are very excited to welcome Chadd to the prAna family," said prAna founder, Beaver Theodosakis. "His dedication to raising awareness about issues affecting our oceans, the education of kids in coastal communities like El Cuco, El Salvador, along with the soulful passion he puts into his surfing is the kind of balance that we love to see at prAna. Our design team is looking forward to collaborating with him on new styles, and everyone here is inspired by his stories."
Konig, 26, has used surfing to raise awareness about issues like fracking and the health of cetaceans, paddling prone for 250 miles or more on his Pacific coastal journeys. As Project Coordinator with the non-profit Surf For Life, he has helped to build schools and other structures important to communities in El Salvador and Nicaragua. In early February, he will travel to the Philippines to begin their latest project.
"It's always enjoyable for me to create something, whether it's helping with a product, telling a story through video or photography, or building a school. But I haven't always found a company that — on all levels — I connect with as far as resources, ethics, morals and even spirituality. There have always been components missing," said Konig. "PrAna fulfills and meets my beliefs in every one of these areas. They're focused on conscious practices, from fair trade, to organic cotton and hemp, and making products that last. I'm thankful that companies like prAna exist and believe in what I'm doing, so that I can share my stories through them."
"I'm really impressed with Chadd's work, his spirit, thoughtfulness and his athleticism," said Jeff Haack, Creative Director at prAna. "I've never met anyone more intent on being as responsible a human being as possible. We really enjoy the stories that he's creating, and we're looking forward to helping him tell them."
Konig will be prominent in the upcoming Spring 2014 catalog and he is also featured on prAna's website — along with all of prAna's ambassadors —where the latest photos, videos and projects are posted. Find out more about Surf for Life by visiting surfforlife.org. Learn more about Chadd Konig by visiting prAna.com.
-30-
PrAna is a lifestyle brand that draws its name from the ancient Sanskrit word for breath, life and vitality of the spirit. Born from climbing and yoga, the prAna team creates mindfully-designed, purposeful and stylish apparel for free spirited people to pursue their passions on the water, mat, rock, trail, and street. From its beginning in 1993, prAna has been committed to weaving sustainable practices into its operations and supply chain, working to reduce its impact on soils, water supplies and other natural resources while promoting conservation. PrAna is also conscious of its impact on communities and has worked to include a growing number of fair trade styles every year. It is the first apparel company in North America to offer Fair Trade USA certified products and accessories. PrAna is sold in five flagship stores, online at prana.com, and in 1,400 specialty retailers across the US, Canada, Europe and Asia.
For a list of prAna retailers, please visit http://www.prana.com/dealer-locator.html.