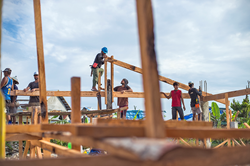 The intention of this trip was to be present with the community and support them through the final stage of recovery after the devastation caused by the cyclone last fall
Carlsbad, CA (PRWEB) May 02, 2014
PrAna ambassador and surfer Chadd Konig joined Surf For Life to help rebuild in the town of Sulangan, one of the hardest hit areas in Eastern Samar by Typhoon Yolanda in November 2013.
"Disaster. Relief. Rebuild," said Konig. "The intention of this trip was to be present with the community and support them through the final stage of recovery after the devastation caused by the cyclone last fall."
The typhoon left about 11 million people affected, many losing their loved ones, homes and belongings. Surf For Life, a non-profit that sponsors educational and community-driven development projects in coastal communities, gathered volunteers this spring to spearhead projects that included two new schools in Sulangan. One of the projects, a day care, was also used as an instructional opportunity to train five local carpenters so that more people can contribute to the rebuilding process in the future.
"We offered to help in the rebuilding of these essential structures, but as we know, these structures are very impermanent," said Konig. "What lives eternally, I reckon, is the kinship and equality that were born through an offering of our lives, time, space and unconditional love. Nothing tangible can bring the contentedness that emanates from those I see here."
"Our hearts go out to all those affected by Typhoon Yolanda," said prAna's founder Beaver Theodosakis. "That's why we're proud to support athletes and activists like Chadd who uphold our values — selfless service, or Seva, is at the core of those so Chadd is a very inspirational person for us at prAna."
To learn more about Surf For Life or volunteer for a project, visit surfforlife.org. Find out more about Chadd Konig and his experience in the Philippines by visiting [http://www.prana.com/life/2014/05/02/chadd-konig-philippines-reflection.
-30-
About prAna
PrAna is a lifestyle brand that draws its name from the ancient Sanskrit word for breath, life and vitality of the spirit. Born from climbing and yoga, the prAna team creates mindfully-designed, purposeful and stylish apparel for free spirited people to pursue their passions on the water, mat, rock, trail, and street. From its beginning in 1993, prAna has been committed to weaving sustainable practices into its operations and supply chain, working to reduce its impact on soils, water supplies and other natural resources while promoting conservation. PrAna is also conscious of its impact on communities and has worked to include a growing number of fair trade styles every year. It is the first apparel company in North America to offer Fair Trade USA certified products and accessories. PrAna is sold in five flagship stores, online at prana.com, and in 1,400 specialty retailers across the US, Canada, Europe and Asia.
For a list of prAna retailers, please visit http://www.prana.com/dealer-locator.html.
Find @prAna on Facebook, Twitter and Instagram.