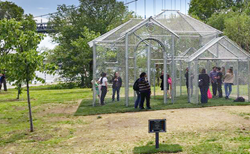 The "Ghost House" at Randall's Island Park in New York. Designed by architect Michele Cetera - Winner of the 2014 Les Grube Memorial Design Award, awarded by the association of Chain Link Manufacturers Institute.
Columbia, Maryland (PRWEB) February 06, 2015
The Ghost House is a public sculpture commissioned for Randall's Island Park by the New York City Department of Parks in partnership with the Bronx Museum of the Arts. The concept for Ghost House originates with artist Wilfred Smith's Fences Furniture sculptures, a series of furniture constructed entirely of chain link fence.
Michele Cetera, AIA and the 458 Construction and Fence Company were both recognized for their work on the project.
Ghost House expands this concept to delineate the entire home, inspired by the many baseball backstops in Randall's Island Park. This sculpture uses the material to create a delicate three-dimensional "drawing" of a house executed in woven steel wire and pipe. Ghost House has a footprint of 18 by 24 feet and stands 16 feet in height. Industry guidelines were followed in the design and detailing of the structure, using standard chain link fence fabric, pipe, and fittings.
All chain link products were generously donated and delivered on site to the project by Eastern Wholesale Fence Co., Inc. of Medford, NY. Park visitors are invited to use Ghost House for ball games, play, contemplation, or even live performance. The title for Ghost House pays homage to architect Philip Johnson's structure of the same name in New Canaan, CT.
The CLFMI Design Award is named for Les Grube, a Past President of the Chain Link Fence Manufacturers Institute and a fence industry pioneer. The winning architect and contractor each receive specially - designed plaques and cash awards of $2,500.00 for the designing architect and $1,000.00 for the installing contractor.
Nominations for the 2015 Les Grube Award are being accepted through November 1, 2015.
For more information contact Mark Levin, CAE, CSP at 301-596-2583 or view the award details at http://www.chainlinkinfo.org