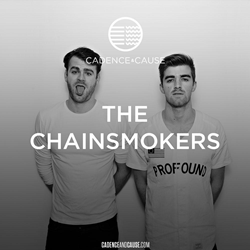 "Every child should have the opportunity to receive a full education." - The Chainsmokers
Denver, CO (PRWEB) April 24, 2015
The Chainsmokers, an internationally recognized Producer/DJ duo have teamed up with Cadence & Cause to provide basic childhood educational needs to underdeveloped countries. They've each donated a pair of signed Beats By Dre headphones, both of which are a part of an exclusive sweepstakes.
"Every child should have the opportunity to receive a full education. At the end of the day, those in school not only learn facts they may read in a textbook, but they learn about themselves. They learn what they are passionate about and slowly discover what their purpose is in life. Education presents choices and possibilities. Simply put, it is the gateway to a greater you." –The Chainsmokers
The sweepstakes ends on 5/1/2015 and the cost of entry is only $5.
Cadence & Cause is a music platform offering new music to fans while creating charitable contributions. Imagine a hybrid of Spotify, Omaze and Kickstarter. The company partners with the ONEHOPE Foundation to ensure non-profit organizations are legit and operates on a "Give-Get" model. First, artists donate an unreleased song, autographed schwag, or a personal experience like dinner with the band. Next, fans buy music or enter contests at the Cadence and Cause website, and Cadence & Cause fulfills and ships donations.
ABOUT CADENCE & CAUSE
Cadence & Cause, developed by Clayton Warwick, Co-Founder of The Music Ninja, and advertising agency LRXD, is a new and novel music website that combines a cool listening experience with social responsibility. The site raises awareness and revenue for charities by connecting fans to emerging and established musicians and the causes they believe in. Artists offer exclusive tunes, merchandise and/or one-of-a-kind experiences to fans who kick in funds.
http://www.cadenceandcause.com
FB / TW / IG - @CadenceandCause