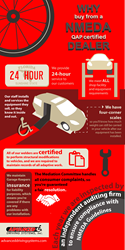 Tallahassee, FL (PRWEB) March 31, 2015
In honor of National Disability Month, Advanced Driving Systems (ADS) is offering advice for buying from a NMEDA QAP certified dealer.
National Mobility Equipment Dealers Association (NMEDA) is a nonprofit organization that provides consumer guidance and ensures quality and professionalism in the manufacturing and installation of mobility equipment. The organization's Quality Assurance Program (QAP) rewards companies in the industry that consistently adhere to the highest quality safety and customer service standards. There's an invaluable peace of mind that comes from considering handicap vans for sale through a QAP-certified dealer.
An NMEDA QAP-certified dealer provides 24-hour service to customers and meets all shop facility and equipment requirements. The staff installs and services the equipment they sell, so they know it inside and out. With four-corner scales, customers can know how much weight can still be carried in the vehicle after the equipment has been installed.
At ADS, all of the welders are certified to perform structural modifications to vehicles and are required to maintain records of all adaptive work. ADS maintains Garage Keepers insurance for liability purposes, which means customers are covered if there are any problems with installation. The Mediation Committee handles all consumer complaints, so customers are guaranteed a fair resolution.
Each year, ADS is inspected by an independent auditing firm to ensure compliance with NMEDA guidelines. ADS has been a NMEDA-certified dealer with a QAP designation since the program's inception. ADS is proud to be a NMEDA-certified dealer and looks forward to giving customers personal, quality service. Visit http://www.adstally.com/ for more information.
About the Company:
Advanced Driving Systems, Inc. offers a variety of services. There is no job too big or too small. From scooter repairs to full custom van conversions, Advanced Driving Systems, Inc. is a one-stop independence mobility center. They offer competitive prices and complete customer satisfaction, making them one of the largest authorized dealers in North Florida. When it comes to quality and dependability, ADS delivers. Advanced Driving Systems, Inc. stocks a variety of scooters, vans and accessories in-house. Check out their vehicle selection at http://www.adstally.com/.