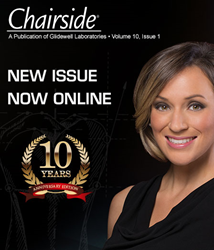 Chairside magazine strives to provoke new ways of thinking and help restorative dentists take their techniques and knowledge to the next level.
Newport Beach, CA (PRWEB) February 17, 2015
Glidewell Laboratories, industry-leading provider of dental laboratory products and services, announced today that the new issue of Chairside® magazine, its restorative-dentistry-focused publication, is now available in print and online. The digital edition of the latest issue, Volume 10, Issue 1, as well as past issues of the dental laboratory's magazine, can be viewed from all popular desktop, tablet and smartphone platforms by visiting http://www.chairsidemagazine.com.
In the featured one-on-one interview, Editor-in-Chief and Clinical Editor Dr. Michael DiTolla talks with Dr. Erin Elliott, a general dentist from Idaho who has evolved her practice by offering new services such as accelerated orthodontics and sleep apnea treatment. Discover what this talented clinician has to say about growing her business by incorporating new areas of dentistry into her practice and getting her whole team involved with educating patients.
Also featured in the issue is an informative photo essay in which Dr. DiTolla highlights a straightforward procedure that ensures clinicians achieve the mandatory reduction requirements for monolithic restorative materials. Read the article, view the case photos, and watch the video of Dr. DiTolla performing the case to discover the benefits of using the Reverse Preparation.
Additionally, the issue includes Dr. DiTolla's reviews of new dental products and several articles from leading clinicians, including a review of the literature surrounding the factors impacting long-term success of endodontic post systems, a case presentation displaying the benefits on scheduling and productivity garnered from buffered anesthetics and laser use, a discussion of how CT diagnosis and scanning software make the implant process simpler for all levels of implant clinicians, and a look back on just how far Chairside has come as the magazine enters its 10th year of publication. Plus, in the recurring "Chairside Live" column, Dr. DiTolla presents a recent Case of the Week from the lab's weekly Web series that takes an in-depth look at how clinicians can immediately improve the results coming from the lab by switching to a trusted, proven impression technique.
Glidewell Laboratories launched "Chairside Live" in May 2012 as a multimedia supplement to Chairside magazine. The weekly Web video series gives dentists an insider's look at some of the unique and interesting cases processed at the lab, while keeping them informed of the latest dental news. Current and past episodes of "Chairside Live" can be viewed at http://www.chairsidelive.com.
Chairside magazine is published by Glidewell Laboratories and company president/CEO Jim Glidewell, CDT. With each issue, Chairside strives to provoke new ways of thinking and help restorative dentists take their techniques and knowledge to the next level. Featuring clinical tips and techniques, case studies, practice management advice, product reviews and one-on-one Q&A interviews with prominent dental experts, Chairside guides practitioners through the challenging and rewarding tasks the dental profession has to offer.
For anywhere, anytime access to the Chairside magazine digital edition and exclusive online content including case videos, clinical case photos, archived articles and CE tests, visit http://www.chairsidemagazine.com. For more information about Chairside magazine, call 888-303-4221 or email chairsidemagazine(at)glidewelldental(dot)com.