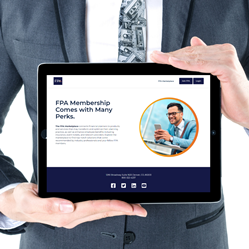 "Chalice Enterprise Solutions' marketplace platform allows FPA to bring vital solutions to their membership base and give them access to top-tier tech with huge savings."
MELBOURNE, Fla. (PRWEB) July 20, 2021
Chalice Network™ proudly announces the addition of the Financial Planning Association® (FPA®) as its latest partner of Chalice Enterprise Solutions, the white-label marketplace platform that digitally delivers member benefits to the nation's leading financial institutions, associations, and societies. With single sign-on technology, Chalice digitally delivers a suite of benefits that helps throughout the entire lifecycle of a business. In turn, FPA will integrate their partner network and can now offer an improved and digitally accessible marketplace that will help their members save time, money, and easily access exclusive benefits vital to running their businesses efficiently.
"It doesn't get any better than partnering with FPA. We are seeing a digital divide across the financial industry, and Chalice Enterprise Solutions was created to help these companies and organizations bridge the technology gap. We are dedicated to empowering our partners to give their people the tools, resources, and benefits they need to be at their very best. Our marketplace technology allows them to quickly and cost-effectively deliver benefits and discount programs, while enhancing both the business lives and personal lives of its members – creating a greater sense of community," states Keith Gregg, CEO of Chalice Network™.
Chalice Enterprise Solutions gives financial institutions the power to provide its members with a unified, seamless experience through single sign-on technology, eliminating the hassle of integrating multiple solutions. Through its comprehensive platform, firms can access exclusive benefits and discount programs. With solutions from legal and compliance support to accounting and everything in between. Backed by customizable marketplace technology that makes it easy to integrate existing solutions and add new benefits as they roll out.
"At FPA, we are always looking to enhance the value of membership in our Association and, at the same time, enhance our members' professional development and businesses. We are delighted to partner with Chalice Network® to bring their marketplace technology to our members so they can access a suite of highly relevant benefits. We look forward to collaborating with the Chalice team in the months ahead," says Patrick D. Mahoney, CEO of FPA.
"We couldn't be prouder of this new partnership. The addition of FPA validates the importance of creating communities. We want to encourage associations and organizations to embrace the idea of community, and our partnership with FPA is a huge step forward in achieving just that," explains Keith Gregg, adding, "Chalice Enterprise Solutions platform allows FPA to bring vital solutions to their membership base and give them access to top-tier tech with huge savings. This partnership validates the leadership role Chalice plays in bridging the digital gap and helping all types of businesses bring better benefits to their members."
About Chalice Network™
Chalice Network™ is a Digital Marketplace PaaS (Platform as a Service) with a community of 60,000+ business owners consisting of Financial Advisors, RIAs, IBDs, CPAs, Insurance Agents, Attorneys, and Allied Financial Services Professionals. Chalice was purposely built to give small to mid-sized business owners economies of scale, operational efficiency, and enhanced enterprise value through a marketplace-based model. Chalice's goal is to help expand brands into networks, from linear businesses into holistic constellations. Learn more about Chalice Network at http://www.chalicenetwork.com.
About the Financial Planning Association
The Financial Planning Association® (FPA®) is the principal membership organization for CERTIFIED FINANCIAL PLANNERTM professionals, educators, financial services professionals, and students who are committed to elevating the profession that transforms lives through the power of financial planning. With a focus on the practice, business, and profession of financial planning, FPA advances financial planning practitioners through every phase of their careers, from novice to master to leader of the profession. Learn more about FPA at http://www.financialplanningassociation.org.