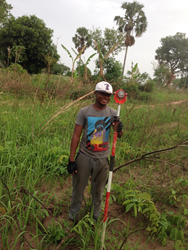 "Every young person in this world has something special to offer to humanity. I believe it's about time we realise our potential and see ourselves as the future we would like to see and so embracing our ability to create change in the world.
Edinburgh, London (PRWEB UK) 1 January 2016
Jamal Musah, 26 tells of how how his International youth enterprise volunteering with ICS: Challenges Worldwide gave him true purpose;
"I have started a commercial farming company in order to to provide training and jobs in my community, while at the same time promoting food security in Ghana by using sustainable farming methods. The environment of trust created by ICS: Challenges allows volunteers from all nationalities and backgrounds to honestly share strengths and weaknesses. This positive collaboration turned a failing company around and turned my vision for alleviating poverty into a tangible reality."
Jamal is a successful youth volunteer turned entrepreneur and founder of the Ghana Youth Climate Coalition. Jamal received a 'highly recommended' in the 2015 Queen's Young Leader Award. This influential award recognises young people's contributions to leadership across the Commonwealth. He is a former business support volunteer, and attributes his commendation, as well as his emergence as an entrepreneur, to his time volunteering with ICS: Challenges Worldwide. His story offers a blueprint for developing potential and creating purpose through enterprise.
This call to action in terms of youth leadership cannot come too soon for some.... The respected UK Scale-Up report says the economic growth needed to ensure jobs for the next generation will come from SMEs. Indeed, the report's author, Sherry Coutu, believes this growth must be catalysed by a next generation of leaders, such as Jamal. UK Trade and Investment (UKTI) state that 85% of companies using their services claim export to be a key driver of growth. Therefore, it is essential that young business leaders with a global vision and a passion for driving change from the ground up, can be part of a cross-cultural platform that promotes development, trade and enterprise.
However, at the moment a key challenge is ensuring British youth have the right skill-sets and motivation to help lead this. In the 2015 CBI/Pearson survey 2 in 3 businesses expected their need for staff with higher level skills to grow in the years ahead, but more than half of those surveyed (55%) feared that they would not be able to access enough workers with the required skills. This was echoed in last month's "WeConnect" conference, with speakers ranging from large corporations to successful SMEs referencing their own experiences as being a clear indication of this skills shortage.
Enter International Citizen Service (ICS), a Department for International Development (DFID) funded programme. Volunteers from different cultures and backgrounds work together to tackle key business tasks in emerging economies, with the magic bullets of collaboration and cross-border knowledge-share, driving SME success and catalysing personal growth.
As UK volunteer Amy shared after her placement in Ghana; "The access and support ICS: Challenges creates, gives you the freedom to be a Changemaker both here and at home."
In this carefully frame-worked, funded programme, a 12-week period overseas is coupled with Chartered Management Institute (CMI) business training, with potential to gain a qualification. This process gives young people the environment, training and support they need to get creative in 2016. ICS: Challenges gives youth the ability to turn their ideas into actions, learn new skills and create projects. It is based on the fundamental insight that young people will flourish but need help in the transition to adulthood and economic independence, which ultimately leads to their successful participation in overall national economic well-being.
ICS enables international youth volunteers from the UK and Africa to understand the difference they can make to their own lives and those of their communities in 2016. So New Year and a new start inviting young people to answer Jamal's call to action:
"Every young person in this world has something special to offer to humanity. I believe it's about time we realise our potential and see ourselves as the future we would like to see and so embracing our ability to create change in the world." See Jamal's video interview
About:
ICS: Challenges Volunteering
All UK-based 18-25 year olds are welcome to apply, regardless of background, qualifications, disability and work history. Applications can be made by visiting challengesworldwide.com
Challenges Worldwide
Challenges Worldwide is an award-winning international NGO that uses a combination of enterprise and educational technology to deliver blended, volunteer-driven business.
Over the last ten years CW has:

Raised £30 million debt and equity finance to support SMEs
Created 25 global trade partners to support the Challenges Worldwide network
Supported more than 20 multi-national corporations to deliver employee volunteering in international businesses
Qualified over 100 UK, Asian and African nationals on CMI vocational qualifications
Supported 250 young volunteers pairs through the ICS programme
Supported +1500 SMEs in 40 countries with +100,000 days of on-site direct mentoring