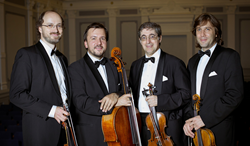 "In celebrating our 60th season, we're proud to join in celebrating the Borodin Quartet's 70th and the Kalichstein Laredo Robinson's 40th Anniversaries," noted Julian Kreeger, FOCM President and Artistic Director.
Miami, FL (PRWEB) September 30, 2015
In a season filled with anniversaries and plenty of Beethoven and much more, the Friends of Chamber Music of Miami (FOCM) opens its 60th anniversary season on Tuesday, October 13 with a special performance by the famed Russian Borodin Quartet in their 70th season. Their all-Russian program, a perfect match for the occasion, features the Borodin String Quartet No. 2, Shostakovich String Quartet No. 8, and Tchaikovsky's String Quartet No. 2. Last sentence The concert will be the first in the series of world-renowned musicians who are featured in the Friends of Chamber Music of Miami 2015-2016 season.
"In celebrating our 60th season, we are proud to join in celebrating the Borodin Quartet's 70th Anniversary and the Kalichstein Laredo Robinson's 40th Anniversary when they will play the complete Beethoven Piano Trios," noted FOCM President and Artistic Director Julian Kreeger.
Our celebration will also include recitals by England's Artist of the Year Benjamin Grosvenor and the great Russian pianist Nikolai Lugansky along with a special concert with the great British Pianist Stephen Hough who will play Beethoven's Emperor Concerto and Liszt E-flat Concerto with James Judd conducting the Florida International University Orchestra," added Kreeger, who has served in his positions with the organization since 1984."
Tickets to all Friends of Chamber Music of Miami concerts are available through http://www.MiamiCamberMusic.org and inquiries for more information can be made by calling (305) 372-2975 or emailing Info@MiamiChamberMusic.org.
One of the oldest chamber music series in the U.S., for the past 60 years FOCM has regularly presented such great chamber music ensembles and instrumentalists as the Budapest, Juilliard, Guarneri, Tokyo Artemis, Talich, Borodin, Ysaye, and Emerson Quartets; the Beaux Arts, Borodin and Kalichstein Laredo Robinson Trios; instrumentalists James Ehnes, Roberto Diaz, Nikolai Lugansky, Cyprien Katsaris, Bruno Leonardo Gelber, Yefim Bronfman, Santiago Rodriguez, William De Rosa, Richard Stoltzman and Alex Fiterstein and and countless others, bringing them to various Miami concert stages to enhance the cultural vitality of South Florida.
2015-2016 Friends of Chamber Music of Miami Schedule
Tuesday – October 13, 2015, 8:00 pm
Borodin Quartet – 70th Anniversary Celebration
Coral Gables Congregational Church
Program
Borodin Quartet No. 2
Shostakovich Quartet No 8
Tchaikovsky Quartet No 2
For seven decades, the Borodin Quartet has been celebrated for its insight and authority in the chamber music repertoire. Revered for its searching performances of Beethoven and Shostakovich, the Quartet is equally at home in music ranging from Mozart to Stravinsky.
Described by the Daily Telegraph Australia as "the Russian grand masters", the Borodin Quartet's particular affinity with Russian repertoire is based on constant promotion, performances and recording of the pillars of Russian string quartet music – Borodin, Tchaikovsky and Shostakovich, as well as Glinka, Stravinsky, Prokofiev and Schnittke. The Quartet is universally recognised for its genuine interpretation of Russian music, generating critical acclaim all over the world; theFrankfurter Allgemeine Zeitung writes about them "here we have not four individual players, but a single sixteen-stringed instrument of great virtuosity".
Throughout 2015, the Borodin Quartet celebrates its landmark anniversary performing all over the world with dates in Moscow, St.Petersburg, Rotterdam, Tokyo, Istanbul, Montreal, Vancouver, Amsterdam, Warsaw, London, Frankfurt, Hong Kong, Miami and Philadelphia, Berlin, Zurich and Vienna and performances at international festivals including Schleswig Holstein, Rheingau, Tokyo Spring, the Snape Proms , Istanbul Music and the Dvorak Prague Festivals.
--
Monday – November 16, 2015, 8:00 pm
Ehnes Quartet
Coral Gables Congregational Church
All-Beethoven Program
String Quartet Op 18, No. 5
String Quartet Op. 95
String Quartet Op. 132
Hailed as "an important new force in the chamber music arena" with a "dream-team lineup" (Strings), the Ehnes Quartet is comprised of four internationally renowned string musicians.
Grammy award winner James Ehnes is one of the world's most acclaimed violin soloists and the Artistic Director of the Seattle Chamber Music Society. Fellow violinist Amy Schwartz Moretti is an active soloist and chamber musician, former concertmaster of the Florida Orchestra and Oregon Symphony, and Director of the Robert McDuffie Institute for Strings at Mercer University. Violist Richard O'Neill appears around the world as soloist and chamber musician, is a member of the Chamber Music Society of Lincoln Center, and is Artistic Director of Ensemble Ditto. Cellist Robert DeMaine sustains a versatile performing career as soloist, recitalist and chamber musician while also holding the position of principal cellist of the Los Angeles Philharmonic.
Critically acclaimed performances from Seattle to Miami and Montreal have led to numerous international engagements, including a European tour with appearances at London's Wigmore Hall and Paris's Musée du Louvre.
--
Tuesday, December 15, 2015, 8:00 pm
Brentano Quartet with Roberto Diaz, viola
Coral Gables Congregational Church
Program
Mendelssohn String Quartet, Op. 12
Britten String Quartet No. 3
Mendelssohn String Quintet, Op 87
Since its inception in 1992, the Brentano String Quartet has appeared throughout the world to popular and critical acclaim. "Passionate, uninhibited and spellbinding," raves the London Independent; the New York Times extols its "luxuriously warm sound [and] yearning lyricism"; the Philadelphia Inquirerpraises its "seemingly infallible instincts for finding the center of gravity in every phrase and musical gesture"; and the Times (London) opines, "the Brentanos are a magnificent string quartet…This was wonderful, selfless music-making."
As of July, 2014, the Brentano Quartet succeeds the Tokyo Quartet as Artists in Residence at Yale University, departing from their 14 year residency at Princeton University. The quartet also currently serves as the collaborative ensemble for the Van Cliburn International Piano Competition. In recent seasons, the Quartet has traveled widely, appearing all over the United States and Canada, in Europe, Japan and Australia. It has performed in the world's most prestigious venues, including Carnegie Hall and Alice Tully Hall in New York; the Library of Congress in Washington; the Concertgebouw in Amsterdam; the Konzerthaus in Vienna; Suntory Hall in Tokyo; and the Sydney Opera House. The Quartet has participated in summer festivals such as Aspen, the Music Academy of the West in Santa Barbara, the Edinburgh Festival, the Kuhmo Festival in Finland, the Taos School of Music and the Caramoor Festival.
In 2012, the Brentano String Quartet provided the central music (Beethoven Opus 131) for the critically-acclaimed independent film A Late Quartet.
Within a few years of its formation, the Quartet garnered the first Cleveland Quartet Award and the Naumburg Chamber Music Award. In 1998, cellist Nina Lee joined the Quartet, succeeding founding member Michael Kannen. The Quartet is named for Antonie Brentano, whom many scholars consider to be Beethoven's "Immortal Beloved", the intended recipient of his famous love confession.
A violist of international reputation, Roberto Díaz is president and CEO of the Curtis Institute of Music. As a teacher of viola at Curtis and former principal viola of the Philadelphia Orchestra, Mr. Díaz has already had a significant impact on American musical life and continues to do so in his dual roles as performer and educator.
As a soloist, Mr. Díaz collaborates with leading conductors of our time on stages throughout North and South America, Europe, and Asia. Mr. Díaz has also toured Europe, Asia, and the Americas a member of the Díaz Trio with violinist Andrés Cárdenes and cellist Andrés Díaz. The Díaz Trio has recorded for the Artek and Dorian labels.
In addition to his decade-long tenure as principal viola of the Philadelphia Orchestra, where he performed the entire standard viola concerto repertoire with the orchestra and gave a number of Philadelphia Orchestra premieres, Mr. Díaz was also principal viola of the National Symphony under Mstislav Rostropovich, a member of the Boston Symphony under Seiji Ozawa, and a member of the Minnesota Orchestra under Sir Neville Marriner. Mr. Díaz plays the ex-Primrose Amati viola.
--
Friday – January 15, 2016, 8:00 pm
Stephen Hough, piano
James Judd, conductor
Florida International University Orchestra
Wertheim Concert Hall, Florida International Unviversity
Program
Liszt Piano Concerto No. 1
Beethoven Piano Concerto No. 5 ("Emperor")
Since winning first prize in the Naumburg International Piano Competition in 1983, Stephen Hough has appeared regularly with most of the major American and European orchestras under a range of leading conductors. He has also compiled an extensive list of recordings that have received four Grammy nominations and eight Gramophone Awards—including two 'Record of the Year' awards. In 2001 Mr. Hough was the first classical performing artist to win a MacArthur Foundation "Genius Grant."
From highly acclaimed performances of central repertoire to an interest in contemporary and neglected nineteenth-century works, Steven Hough integrates the imagination and pianistic color of the past with the scholarship and intellectual rigor of the present, illuminating the very essence of the music he plays.
An artist of outstanding versatility, British born conductor James Judd is sought after for his passionate musicianship and his charismatic presence both on and off the podium. Known for his extraordinarily communicative style and bold, imaginative programming, repeat engagements in concert halls from Prague to Tokyo attest to his rapport with audiences and musicians alike. In his distinguished career, James Judd has conducted the Berlin Philharmonic, Rotterdam Philharmonic, Orchestre National de France, Gewandhaus Orchestra of Leipzig, Royal Philharmonic, London Symphony, the English Chamber Orchestra, BBC Symphony, Baltimore Symphony, Indianappolis Symphony, Cincinnatti Symphony and St. Louis Symphony. Performance highlights from this past season include engagements with the Hungarian National Philharmonic, the NHK Symphony, the Royal Concertgebouw Orchestra, the Orchestra of Santa Cecilia Rome, performances of Elgar's Dream of Gerontius with the Vienna Symphony and a tour of China, Japan and Taiwan performing Mahler's Symphony No. 9 with the Asian Youth Orchestra.
In 2008 James founded the Miami Music Project in South Florida. Underwritten by a generous grant from the John and James L. Knight Foundation, the Miami Music Project ( MMP) provides education, instruction and performance opportunities for hundreds of children from diverse and underserved communities throughout the city. Inspired by Venezuela's El Sistema model, the MMP has opened academies for musical instruction in the Doral and Little Haiti communities of Miami, with plans underway for expansion into Little Havana and Liberty City. Additionally, the MMP continues it's mission to give the older and most talented young musicians an opportunity to rehearse and perform the masterworks of the orchestral repertoire with the establishment of ESMIA (El Sistema Miami) Youth Orchestra.
--
Sunday – January 17, 2016, 4:00 pm
Benjamin Grosvenor, piano
Gusman Concert Hall, University of Miami
Program
Mendelssohn Two Preludes and Fugues
Chopin Sonata No. 2, Op.35 ("Funeral March")
Ravel: Le Tombeau de Couperin
Liszt: Venezia e Napoli
"Benjamin Grosvenor may well be the most remarkable young pianist of our time."
Gramophone Magazine
British pianist Benjamin Grosvenor first came to prominence as the outstanding winner of the Keyboard Final of the 2004 BBC Young Musician Competition at the age of eleven. Since then, he has become an internationally regarded pianist performing with orchestras including the London Philharmonic, RAI Torino, New York Philharmonic, Philharmonia, Tokyo Symphony, and in venues such as the Royal Festival Hall, Barbican Centre, Singapore's Victoria Hall, The Frick Collection and Carnegie Hall.
At just nineteen, Benjamin performed with the BBC Symphony Orchestra on the First Night of the 2011 BBC Proms to a sold-out Royal Albert Hall. Benjamin was re-invited to the BBC Proms in 2012, performing with the Royal Philharmonic Orchestra and Charles Dutoit. His performance dazzled critics, with The Financial Times commenting on the way in which "His Saint-Saëns alternated between a distant dream world and outbreaks of sparkling effervescence" and his encore – Saint-Saëns' The Swan in Godowsky's transcription – "glided poetically across the keys", it "was pure magic" (Jessica Duchen), "exquisite: for pianism's Team GB, a gold" (The Independent).
In 2011 Benjamin signed to Decca Classics, and in doing so has become the youngest British musician ever to sign to the label, and the first British pianist to sign to the label in almost 60 years.
--
Thursday – February 11, 2016, 8:00pm
Saturday – February 13, 2016, 8:00 pm
Sunday – February 14, 2016, 4:00 pm
Kalichstein Laredo Robinson
Gusman Concert Hall, University of Miami
Beethoven's Complete Piano Trios
(over three concerts)
Three friends with international solo careers were asked to come together and perform as a trio for the 1977 Inauguration of President Carter, thus launching the amazing career of the Kalichstein-Laredo-Robinson Trio. Nearly four decades of performing together and separately have molded this warm collaboration of friends into a finely-honed trio, recognized as the standard-setters for performance of works for violin, cello and piano.
Whether performing the masterworks of the chamber music literature or expanding the repertoire in the commissions of works composed for their combined gifts, Kalichstein-Laredo-Robinson have brought joy to Miami audiences for many seasons. Their performances are notable for the relationship they establish between audience and stage so the audience feels almost a part of the performance itself.
--
Sunday – March 13, 2016, 4:00 pm
Paul Appleby, tenor
Ken Noda, piano
Gusman Concert Hall, University of Miami
Paul Appleby's past season featured his return to the Metropolitan Opera for David in Wagner's epic comedy, Die Meistersinger von Nürnberg and as the lead role of Tom Rakewell in Stravinsky's The Rake's Progress, both conducted by James Levine and a performance with the Milwaukee Symphony singing the role of Don Ottavio in Mozart's Don Giovanni under Edo de Waart,. The tenor makes his company debut singing Don Ottavio in the San Diego Opera's production of Don Giovanni, and joins the Chamber Music Society of Lincoln Center on tour.
--
Nikolai Lugansky, piano
Monday – March 21, 2016, 8:00 pm
Coral Gables Congregational Church
Program
Schubert Impromptus Op. 142, Nos. 1 and 3
Beethoven Sonata No. 30, Op. 109
Albeniz: Azulejos & El Albaicin from Iberia
Rachmaninoff: Moments Musicaux, Op. 16
Capable of great refinement and sensitivity in Mozart and Chopin, and breathtaking virtuosity and "crystalline beauty" (The Financial Times) in Rachmaninov and Prokofiev, Nikolai Lugansky is a pianist of extraordinary depth and versatility.
This summer will see his debuts at the festivals of Aspen and Tanglewood. Concerto highlights for the 2014/15 season and beyond include returns to the London Philharmonic Orchestra, Philharmonia Orchestra, Czech Philharmonic Orchestra, Budapest Festival Orchestra, Orchestre symphonique de Montréal and Orchestre de Paris. Lugansky also undertakes tours with the Orchestre de la Suisse Romande (Charles Dutoit) in the US and the Oslo Philharmonic Orchestra (Vasily Petrenko), Russian National Orchestra (Mikhail Pletnev) and St Petersburg Philharmonic Orchestra (Yuri Temirkanov).
Upcoming recital and chamber music performances include the Alte Oper Frankfurt, London's Wigmore Hall, the Konzerthaus Berlin, Vienna's Konzerthaus, Paris' Théâtre des Champs-Elysées, New York's 92nd St. Y, the Great Hall of the Moscow Conservatoire and the Great Hall of the St Petersburg Philharmonia.
About Friends of Chamber Music of Miami
(http://www.miamichambermusic.org)
Friends of Chamber Music of Miami, Inc. (FOCM) is dedicated to the presentation of chamber music as performed by the world's greatest chamber ensembles. Its mission is two-fold: to preserve the art of chamber music performance by showcasing the most exemplary artists working in the medium; and to build appreciative audiences for the art form among people of all ages. FOCM also offers outstanding educational opportunities for South Florida's advanced music students.
For 60 years, FOCM has presented the world's greatest chamber ensembles. Such internationally acclaimed performers as the Budapest, Juilliard, Guarneri, Emerson and Cleveland Quartets and the Beaux Arts and Kalichstein Laredo Robinson Trios have all been frequent visitors of the series. Over the years, series' concerts have been performed at the acoustically superb Gusman Concert Hall at the University of Miami as well as the Colony Theatre, Wertheim Auditorium at Florida International University, Temple Beth Am, Coral Gables Congregational Church and several other South Florida venues.
###