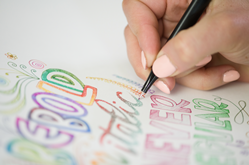 Our patented system gives creatives near infinite possibilities when it comes to instantly blending brilliant colors.
HAYWARDS HEATH, West Sussex (PRWEB) June 12, 2019
Chameleon Fineliners, the revolutionary color blending pens designed to seamlessly blend two or more colors, has moved over to Indiegogo's InDemand to continue accepting pre-orders. After surpassing its funding goal in just three hours, Chameleon Fineliners went on to raise $320,000 over its 35-day campaign. Customers who missed the original campaign still have a chance to discover the revolutionary pens that are changing the way people write, color, doodle and draw.
Using the only patented dual ink system, artists and writers can seamlessly blend multiple colors to create exciting variants and add depth, dimension, highlights, shading and shadows. Customers already familiar with Chameleon and their original line of products were excited to see a revamped design that allows for more precise writing and blending. Blending colors has never been easier than with Chameleon. To use the fineliner pens, simply swap the tops of the pens and the ink infuses to create the signature Chameleon blend.
"Artists and writers have been looking for ways to add color and excitement to their work, and while there are a number of options out there, none are quite like Chameleon Fineliners," said Julia Benben, Director of Product Development for Chameleon Art Products. "Our patented system gives creatives near infinite possibilities when it comes to instantly blending brilliant colors."
Leaving imagination as the only limitation, Chameleon Fineliners are perfect for everyone -- from professional artists to casual doodlers, and even those at home who create bullet journals, planners or enjoy coloring books. With 48 unique, vibrant colors that can all be mixed and matched in blending combinations, there are 1,128 different blending combinations possible. Fine point Japanese precision 0.3mm metal-clad tips set these pens apart from others in the Chameleon line and make them perfect for blending in small spaces, journaling and everyday writing. Each pen is filled with water-based, washable, dry-safe ink that won't bleed through most papers and won't dry out when left uncapped.
Chameleon plans to begin delivering Kickstarter orders in July and will continue fulfilling orders as they come through InDemand. Chameleon Fineliners are available in packs of 6, 12, 24, and 48 and begin at $14. To pre-order, visit pr.go2.fund/chameleonpens.
About Chameleon Art Products
Formed in 2013, Chameleon Art Products brings together the same visionary team recognized for bringing high-quality creative art products to the global market for over 20 years.
Priding themselves on innovation, Chameleon brings patented products consumers won't find anywhere else. Based in the UK with representation in over 70 countries across the globe, Chameleon launched their first product at the end of 2014.
The combination of Chameleon's innovative art products and a core ethos of supporting their customers as they grow as artists and crafters has achieved global popularity resulting in hundreds of thousands of social followers and viral campaigns worldwide. Chameleon aims to inspire, encourage and engage every artist, crafter and creative individual through innovations in color. They are committed to listening to, supporting, inspiring and educating all their customers, no matter their age. For more information, visit https://www.chameleonartproducts.com/.