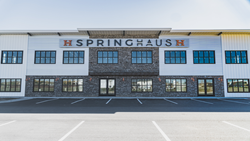 Owner, Alison Ludwick Schuman tells us, "We want everybody to come in!"
TIMNATH, Colo. (PRWEB) October 04, 2018
As a full-service design center and retailer, Springhaus opens its doors for the first time in Timnath, CO, offering all resources for residential, commercial, interior, and exterior projects.
With a menu of products and services— cabinets, flooring, lighting, furniture, 3D renderings, material selection, installation, and so much more—you can find anything you're looking for to complete yours or someone else's dream home.
Springhaus works with homeowners, builders, and industry professionals both residential and commercial and continues to impress with their knowledgeable staff, unique product lines, and impressive selections.
With access to over 100,000 lighting fixtures, Springhaus has been a leading light in the industry as the largest lighting showroom in Northern Colorado.
Knowing not only what homeowners need but what they want, Springhaus is determined to make remodeling and building enjoyable experiences.
Remodeling doesn't have to be a headache—and Springhaus displays that in their showroom—which features a slide and beer on tap. Designers celebrate new projects, taking them on from the first champagne toast with their clients to the last cheers to commemorate a job well done.
Family owned and operated—but not your typical mom and pop shop—Springhaus is raising the bar for the design community in Northern Colorado.
Owner, Alison Ludwick Schuman tells us, "We created this place, this playground, that is beneficial for all. I don't care if you're a builder, a developer, a homeowner or a designer that wants to work out of this space. We want everybody to come in!"
Whether you're looking to do up a bathroom remodel, build a new home or have a place to meet with your client—swing into their showroom, flip through their social media or call to set up an appointment. Prepare yourself and your home for amazing things!