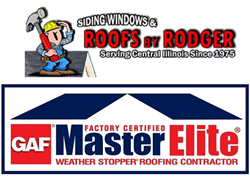 We do not cut corners or skip steps. We believe in providing exceptional quality from the start of a job to the end. - Rodger Ocheltree, President, Roofs by Rodger
Longview, IL (PRWEB) July 11, 2016
Roofs by Rodger (http://www.bestrooferil.com/) is proud to announce GAF Master Elite Roofing Contractor Status and the promise of enhanced system warranties, up to 50 years on its roofing systems. GAF Master Elite Roofing Contractors, like Roofs by Rodger, deliver the gold standard of service and quality in the industry including fitting state licensing and insurance, a spotless reputation, and an ongoing commitment to technical training. Customers count on this rating, knowing the highest quality Longview roofing services and products are conveyed on time every time by qualified professionals.
"Roofs by Rodger performs each project with professional expertise, explains every product clearly, and takes the extra steps necessary to ensure customers are satisfied with all work completed. We do not cut corners or skip steps. We believe in providing exceptional quality from the start of a job to the end." - Rodger Ocheltree, President, Roofs by Rodger
Roofs by Rodger serves the community in Longview as well as the surrounding communities of Champaign, Urbana, and Mattoon, Illinois, delivering quality roofing products and services with unmatched service and competitive pricing. In addition to superior Longview roofing services, Roofs by Rodger supplies the best in siding, gutters, and windows. Longview customers deserve the best and that is exactly what Roofs by Rodger provides.
"Roofs by Rodger is the contracting company to call when a roofing problem needs to be addressed as soon as possible. With more than 40 years of experience in the industry, we are one of the most trusted teams in Central Illinois, guaranteeing that no matter what needs to be done, we will perform with unmatched craftsmanship and service. – Rodger Ocheltree, President, Roofs by Rodger
Roofs by Rodger began in 1975, with the goal to help homeowners maintain the appearance and value of their biggest investment – their homes. Today, the goal is the same and Roofs by Rodger is dedicated to addressing homeowners' concerns immediately with quality, honesty, and respect on every project.
About Roofs by Rodger
Roofs by Rodger is proud to serve the central Illinois communities including Longview, Champaign, Urbana, Mattoon, and the surrounding areas for more than 40 years specializing in roof repairs and installations, gutters, siding, and windows. Each project, no matter its size, is delivered with superior products, premium craftsmanship, and excellent service. Customers can trust Roofs by Rodger with their most treasured investment, their home, with service and quality delivered on time every time.
Roofs By Rodger, 210 Sheridan St., Longview, IL 61852 - http://www.bestrooferil.com/ - Phone: (217) 834-3800