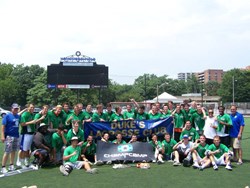 Baltimore, MD (PRWEB) January 21, 2014
Champ Camp has announced its dates for the 2014 season, as July 16-19, 2014. Celebrating its 25th year, once again Champ Camp will host over 1,500 high school lacrosse players on teams from Florida to Massachusetts, and California to New Jersey, competing to determine who is the best in the country.
Champ Camp is proud to be celebrating 25 years of providing elite summer boys lacrosse competition. Over the years, more than 30,000 of the nation's best high school players have competed for the Championship at Champ Camp, and played in front of coaches from every major college program. GW Mix, former head coach at the University of Pennsylvania, and Bryan Matthews, former head coach at the United States Naval Academy, have owned and operated Champ Camp since its inception in 1990. Their combined 60+ years of coaching and camp management experience has enabled them to remain innovators in the industry, and to consistently provide the finest experience for competitors, coaches, and families.
Champ Camp was the first to facilitate summer team competition, the first to provide a venue for travel lacrosse teams, and the first to offer professional referees at a lacrosse camp. As coach Mix said, "When we started Champ Camp, lacrosse travel teams didn't exist! It wasn't until our third or fourth year that coaches started putting travel teams together."
Located in Baltimore, Md., teams experience the thrill of competing at Homewood field at Johns Hopkins University and Unitas Stadium at Towson University. Champ Camp provides the venue for college coaches to come to one location and evaluate players from over 15 states and Canada, and for teams from across the country to test themselves against the best.
Coaches, parents and campers interested in lacrosse recruiting camps can visit champcamp.com or contact laxcamps(at)yahoo(dot)com.