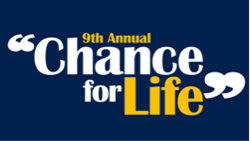 Approximately 3,000 children will be diagnosed with a brain or spinal tumor in the United States each year. ~ Johns Hopkins Medicine
Washington, DC (PRWEB) February 18, 2014
The 9th Annual Chance for Life charity poker tournament, wine tasting, silent auction and after-party hosted by RedPeg Marketing features a star-studded lineup of VIPs this year. The event will be held Saturday, February 22, 2014, at the City Tavern Club in Washington, DC. All proceeds benefit the Spinal Cord Tumor Association.
Confirmed VIPs competing in this year's poker tournament include Bret Baier, host of FOX News's Special Report with Bret Baier; Scott Elrod, actor, Argo and the newly released Lone Survivor; Senator Paul Strauss (D-DC); The Sports Junkies, CBS Sports Radio hosts; Doug Kammerer, NBC4 chief meteorologist; Shawn Springs, former professional cornerback of the Redskins, Seahawks, and Patriots, and Chris Bukowski of ABC's The Bachelor.
The inspiration for the event comes from 13-year-old Kennedy Snyder, who has been battling spinal cord cancer for 11 years since being diagnosed at the age of 2. According to Johns Hopkins Medicine, "Brain and spinal cord tumors represent the most common solid tumors seen in children and second most common group of pediatric cancers after the leukemias. Approximately 3,000 children will be diagnosed with a brain or spinal tumor in the United States each year."
Despite multiple surgeries and rounds of chemotherapy Kennedy has an undeniable spirit of optimism and hope. She attends the event every year and after meeting her, guests often leave saying she has gone through so much in her very young life and is still so positive.
"For kids like Kennedy and their families, it's wonderful to see the incredible energy and support from the folks who turn out," said Jeff Snyder, Kennedy's father and CEO of Inspira Marketing Group. "Spinal cord tumors are incredibly underfunded. It's a race against the clock and every second counts. That's why this event truly is a chance for life."
Since its inception in 2005, Chance for Life has raised nearly $1 million to help fund research and development efforts for spinal cord cancer. This year, the fundraising goal is increasing to an all-time high of $200,000.
More than 200 players will compete to win the grand prize of a $10,000 seat at the World Series of Poker tournament in Las Vegas. The event also features a wine tasting experience with food pairings by James Beard Award-winning chef R.J. Cooper of Rogue 24. Guests will bid on silent auction items featuring exclusive experience packages such as an intimate one hour virtual guitar lesson with Ted Sablay, guitarist, keyboardist and backing vocalist for The Killers and rowing lessons on the Potomac with two-time US Olympic rower Giuseppe Lanzone. The evening concludes with an after-party including live music by the Doug Segree Band and DJ Dirty Hands.
What: 9th Annual Chance for Life Poker Tournament, Wine Tasting & After Party
Where: City Tavern Club, 3206 M St. NW, Washington, DC
When: February 22, 2014
Schedule of Events:

Doors Open 12:00 pm
Poker Tournament 1:00 pm – 8:00 pm
Silent Auction 3:00 pm – 9:30 pm
Wine Tasting 8:00 pm – 10:00 pm
After Party 10:00 pm – 1:00 am
Presenting sponsors for this year's event are Apex Systems and DarCars. Additional confirmed sponsors include Enterprise, GEICO, Ramsey Asset Management, Brightline Interactive, E Group, Portma, Inspira, Northwestern Mutual, Matt Martin Real Estate Management, Exterior Medics and Acumen Solutions.
Media wishing to attend and cover the event should contact Katelyn Gimbel at Red Peg Marketing. Interested sponsors should contact Nicole Arch at Red Peg Marketing for more information.
About Chance for Life
Chance for Life was founded by Brad Nierenberg, President and CEO of RedPeg Marketing located in Alexandria, Virginia. Now in its ninth year, Chance for Life has raised nearly $1 million for spinal cord tumor research since its inception in 2005. 100% of proceeds from the event benefit the Spinal Cord Tumor Association, which is a registered 501(c)3 charitable organization.