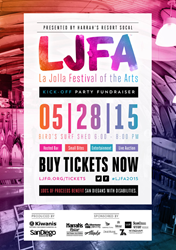 Birds Surf Shed Hosts La Jolla Festival of the Arts kick-off Party -5/28- Icons of Surf Culture Aaron Chang & Tim Bessell support Torrey Pines Kiwanis efforts with Disabled Community
San Diego, CA (PRWEB) May 18, 2015
San Diego Magazine and Torrey Pines Kiwanis will celebrate the annual La Jolla Festival of the Arts™ with a kick-off party at the iconic Bird's Surf Shed on May 28, 2015. Tickets available here.
The La Jolla Festival of the Arts™ Kick-Off Party celebrates the launch of the 29th annual La Jolla Festival of the Arts™ and programs that support San Diegans with disabilities.
A check presentation of $25,000 to both Mission Bay Aquatic Center and Disabled Services Advisory Council will be presented the night of the LJFA Kick-off Party.
The event will showcase the beneficiaries of the funds generated from the La Jolla Festival of the Arts. Guests will have an opportunity to support those charities via a live auction and pledges.
La Jolla Festival of the Arts Ambassadors - Aaron Chang and Tim Bessell
Aaron Chang, the internationally renowned surf and ocean photographer, who regularly gives back to the San Diego community will auction off "Blue Magic" his abstract photograph.
"I'm pleased to be able to share my passion for surf and art with the community, " said Aaron Chang, "It's even more impactful when I know efforts here really change the quality of life for those with disabilities."
Chang, the former senior photographer for Surfer Magazine, owns two award winning fine art photography galleries in San Diego and his work can be viewed at http://www.aaronchang.com
Master surfboard shaper and visionary La Jolla artist, Tim Bessell, will show his exclusive licensed Andy Warhol quiver of custom Bessell boards. Bessell will also be onsite to share his art and auction off his Magic surfboard.
"La Jolla Festival of the Arts is a great place to see iconic art work, celebrate surf culture and rally for resources for disabled San Diegans," said Tim Bessell, Surfboard Shaper and artist.
Bessell boards can be acquired via http://www.timbessell.com or by visiting his La Jolla studio.
The live auction list includes:

"Blue Magic" abstract photograph by Honorary Ambassador, Aaron Chang
Magic surfboard by Honorary Ambassador, Tim Bessell
Live art piece by local artist, Michael Summers, presented by Harrah's SoCal
2-hour private wakesurfing lesson for 4 from Mission Bay Aquatic Center
1 week of surf camp from Mission Bay Aquatic Center
2-nights of accommodations in a studio suite in an affiliate property of Wyndham
2 ticket to "Come From Away" at La Jolla Playhouse
Event Details:
May 28, 2015
Bird's Surf Shed: 1091 W Morena Blvd. San Diego, CA 92110
6:00 – 8:00 p.m.
Tickets: $45 in advance, $55 at the door
Tickets include bites and drinks
Tickets available at:ljfa.org/tickets
Event hashtag: #LJFA2015
For more information
Kaylie Rolin, Event Director
kaylie(at)ljfa(dot)org
619.744.0534
About La Jolla Festival of the Arts: La Jolla Festival of the Arts hosts 200 award-winning local and national artists at a two-day festival on June 20 –21, benefiting sports and recreation programs for San Diegans with disabilities. For more information please visit ljfa.org, or follow us on social media: twitter.com/LJFestivalofArt, facebook.com/LaJollaFestivaloftheArts.