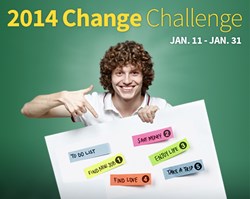 With this online event visitors to the site will have plenty of support for meeting their New Year's resolutions for 2014.
Sedona, Arizona (PRWEB) January 09, 2014
Looking for a way to keep New Year's resolutions? ChangeYourEnergy.com is offering tools to ensure resolution success in 2014. The wellness website created by Ilchi Lee is hosting the Change Challenge, a revolutionary interactive personal transformation event, starts January 11, 2014. With this online event, visitors to the site will have plenty of support for meeting their New Year's resolutions for 2014.
In an ever increasing digital world, the Resolution Challenge provides a social safety net that gives courage to people diving into the risky world of change. It's a 21-day challenge for the 21st Century. Gone are the days when personal change must be a solitary endeavor. The challenge's dynamic live survey feature offers a living, breathing digital support network for resolution keeping.
The 21 Day New Year's Resolution Challenge is an interactive event designed to offer practical tips for setting, and reaching, personal goals. The Resolution Challenge is a three-pronged tool that includes a live survey, a calendar and articles.
The calendar, a step-by-step action plan, offers weekly themes, daily affirmations and links to enriching inspirational articles. The live survey invites readers to submit their personal resolutions for physical, emotional or spiritual growth. From improving relationships to reducing blood pressure, people can weigh in with their top resolutions for 2014 and see how many others share their goals.
The New Year's Resolution Challenge, pioneered by ChangeYourEnergy.com creator Ilchi Lee, is an adjunct to the new e-Book "21 Days to Change: Daily Meditations for Successful Living." The book provides practical, accessible energy principles for change that people can apply to their daily lives that fosters connection.
Launching on January 11, 2013, the Resolution Challenge runs through January 31, 2013.
About ChangeYourEnergy.com:
ChangeYourEnergy.com, is a wellness and lifestyle resource based on the meditation and energy principle teachings of Ilchi Lee. The site offers accessible, around the clock guidance, inspiration and practical tips in an online format for people who want to realize their full human potential. The site offers lifestyle tips, video classes, health and wellness articles, exclusive seminars and personal development coaching.