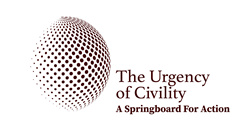 WASHINGTON (PRWEB) April 23, 2019
"We know the world around us is becoming increasingly uncivil. The question is, what can we do about it? What will we do about it? It is no longer sufficient to work to simply move the needle. The Urgency of Civility Conference will enable us to begin to move mountains," shares Russ Charvonia.
Time is running out to register for the Urgency of Civility – A Springboard for Action conference, taking place at the majestic George Washington Masonic National Memorial in Alexandria, VA April 30 – May 1, with a welcome reception the evening of April 29 for all attendees. The event will kick off with a reenactment of President Washington's first inauguration to set the stage for probing discussion and innovative training with the objective of providing the resources needed to stem the tide of incivility.
During the conference, attendees may select one of the six tracks below:

Government – Are there any positive signs that civility can re-emerge? We will explore what various actors – elected officials, government employees, and citizens – can do and are already doing to promote civility.
Workplace – Who are the perpetrators, targets, and bystanders in acts of incivility? This track will explore what anyone affected by incivility in the workplace can do to increase civility in workplace relationships.
Communities – What are practices that encourage civility to increase? We will explore what various community actors, including civic organizations, religious organizations, community organizations, and individuals can do to counter incivility and defend and increase civility.
Media (social and public) –What actions are social media and journalism taking to help civility stage a comeback? This track will explore the possibilities for what roles these vital institutions can play, and how all of us can be wise consumers as well as advocates for increased civility.
Education –What are schools and colleges/universities doing to teach and practice civility at each of these levels? We will explore the roles that educators, educational administrators, parents, and of course students themselves play and can play to strengthen civility.
Families and Youth – Does civility begin at home, and start in childhood? Do families need help in doing this from other institutions in society? This track will explore the critical role played by families and youth in creating a society characterized by civility.
About Civility Convening
Founded in 2017 by a group of concerned citizens and community leaders from across the country, and based on the concepts of civility in Dr. P. M Forni's 1995 book, Choosing Civility, this conference was created to help expand the conversation to a wider audience and build momentum and deepen the impact of meaningful change. Dr. Forni's ideologies are founded on the principles that a civil person:
Think Twice Before Asking Favors
Give Constructive Criticism
Refrain from Idle Complaints
Respect Others' Opinions
Don't Shift Responsibility and Blame
Care for Your Guests
Accept and Give Praise
Learn more at http://www.civilityconvening.org
Contact:
Civility Convening
http://civilityconvening.org
Russ Charvonia
Info(at)CivilityConvening.org
(805) 258-1037
FB: https://www.facebook.com/CivilityConvening/
TW: https://twitter.com/CConvening
Inst: https://www.instagram.com/CivilityConvening/
"Building Better, Together."