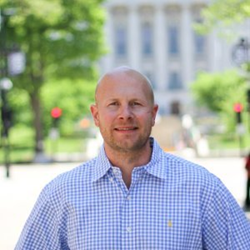 Andy is the perfect combination of successful entrepreneur, experienced leader, and data science strategist
Chicago, Ill (PRWEB) January 07, 2015
Channel IQ, the leading provider of online price monitoring, brand protection, where to buy, and online intelligence solutions announced today that they have named Andrew Walker to succeed Jim Streibich as the company's next Chief Executive Officer.
Walker is a successful entrepreneur, executive, advisory board member, and investor in growth businesses; and has extensive technical expertise in data science strategy, analytics, and engineering. He is deeply entrenched in the startup culture, having been a part of multiple start-ups including co-founder of 42six Solutions, a software development company focused on big data application and development for the federal government. After a period of rapid growth, Walker sold 42six to CSC and assumed the role of VP & GM of Big Data and Analytics. In early 2014 Walker left CSC to join Fetch Rewards, bringing seasoned Big Data and Analytics experience and business acumen to focus the organization on stabilizing their product for national scale.
"Andy is the perfect combination of successful entrepreneur, experienced leader, and data science strategist that we were seeking," said Streibich. "I couldn't imagine passing the company on to a better candidate. He has the experience, passion, and drive to push Channel IQ to new heights. We believe he will enhance our success, industry leadership, and benefit our clients by leading the continual creation of the most impactful channel management and online intelligence solutions in the market."
"I was not looking for change, but the more I learned about Channel IQ, the more I wanted to be a part of this team," said Walker. "I am honored to have the opportunity to lead the Channel IQ team."
"I am excited to know that the day-to-day vision and leadership of Channel IQ is in the hands of Andy Walker," says Wes Shepherd, Channel IQ's founder. "His entrepreneurial experience, coupled with his experience in the Big Data and Retail Technology Sectors, make him the perfect choice to fuel our innovation and growth that customers have come to expect from Channel IQ"
Walker succeeds Jim Streibich, who moved into the role from his position as Chairman of the Board in August of 2014. Streibich will return to the board of directors.
"It has been an honor to have led such a dedicated team during this exciting and transformative time for Channel IQ," Streibich said. "Andy is the right choice to build on our foundation of innovation. His entrepreneurial background, business savvy, industry experience, and strong technical knowledge make him the ideal choice to lead Channel IQ into the future."
Walker's career also includes four years at the Department of Defense. He holds a BS in computer science from the University of Wisconsin, an M.E. in engineering from Stevens Institute of Technology, and an M.B.A. from Northwestern University's Kellogg School of Management.
Walker will be based at Channel IQ headquarters in Chicago, IL.
A Photo of Andrew Walker is available here: http://www2.channeliq.com/l/20122/2015-01-06/68467t/20122/57010/Andrew_Walker_CEO_Channel_IQ.jpg
About Channel IQ
Channel IQ is the leading provider of price policy monitoring, online intelligence, brand protection and where-to-buy solutions to manufacturers and retailers. Channel IQ provides real-time, online promotion and pricing information, integrated reporting, interactive applications, and managed services to empower major manufacturers and retailers to quickly and profitably handle channel issues and competitive situations. Channel IQ solutions are the result of cutting edge technology combined with decades of industry experience in channel management, distribution, online retail, and manufacturing. For more information, visit http://www.channeliq.com.