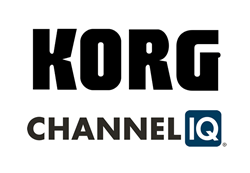 Channel IQ empowers Korg USA to confidently provide our dealers and customers with a balanced retail experience
Chicago, Ill (PRWEB) January 21, 2015
Today Korg USA reaffirmed their position as innovative distributors of high quality musical instruments by announcing the continuation of their partnership with Channel IQ, the world's leading provider of online retail business intelligence, brand protection, where to buy, and channel management software applications. Their four-year partnership with Channel IQ has enabled Korg USA to successfully, support and protect their authorized retailers, while raising consumer awareness of the best source to purchase their products.
Channel IQ's services offer innovators like Korg USA invaluable visibility into their online presence; giving them the ability to create and manage an even playing field for retailers in the online marketplace. Korg USA has shown an unprecedented commitment to their customers and their authorized sellers; continuing to create and support healthy manufacturer-to-dealer rapport. By reaffirming their partnership with Channel IQ, Korg USA maintains to uphold the value and integrity of their products and brands.
"Channel IQ is proud of our continued partnership with Korg USA", says Andy Walker, CEO of Channel IQ. "Our industry-leading solutions perfectly align with the success and high standing of Korg USA's products and position in the music industry."
"We have once again chosen Channel IQ as our strategic partner to secure the market intelligence we need in order to keep abreast of potential channel issues and competitive situations", shared Korg USA CEO, Joe Castronovo. "The information obtained by Channel IQ empowers Korg USA to confidently provide our dealers and customers with a balanced retail experience, whether shopping online or in store."
About Korg USA
Since it was founded in 1963, Korg's goal has been to create new experiences in music and performance. That was what drove the creation of Japan's first disc-based rhythm machine, the Doncamatic, and then led to the development of Japan's first synthesizer and the world's first needle-type tuner, followed by numerous unique instruments that have brought the enjoyment of musical performance to many people all around the world. Korg is resolved to continue to create innovative and uncompromising instruments which maintain the high quality that inspires professional artists and creators, and yet are approachable enough for anyone to play. The musical instruments Korg will deliver are reflections of the ideas and values of the many artists and users who continue to love Korg products - now and into the future. For more information visit: http://www.korg.com.
About Channel IQ
Channel IQ offers the leading suite of online retail intelligence solutions to manufacturers and retailers; providing real-time, online promotion and pricing information that empowers major manufacturers and retailers to quickly and profitably handle channel issues and competitive situations. Only Channel IQ combines integrated reporting, interactive applications, and managed services to enable manufacturers and retailers to automatically act on real-time data. Channel IQ solutions are the result of cutting edge technology combined with decades of industry experience in channel management, distribution, online retail and manufacturing. For more information, visit: http://www.channeliq.com.