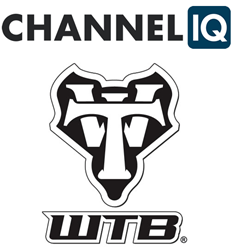 Channel IQ['s]... powerful tools have greatly improved our brand position in the web retail environment
Chicago, Ill. (PRWEB) December 02, 2014
WTB, the creators of innovative and durable bicycle components, has chosen to expand their partnership with Channel IQ, the world's leading provider of online retail business intelligence, brand protection, and channel management software applications, into the brand protection space. Through Channel IQ's price monitoring services, WTB has been able to successfully manage and enforce their minimum advertised price policy (MAP), enabling them to quickly spot and handle unauthorized price drops across the online marketplace. WTB has now taken further steps in strengthening their online position by utilizing Channel IQ to protect its brand.
"We are excited to expand our relationship with Channel IQ. Their powerful tools have greatly improved our brand position in the web retail environment. This partnership has been tremendously helpful to our entire distribution channel," says Gary Gleason, Director of Global Sales at WTB.
Channel IQ's brand protection platform helps companies like WTB manage online marketplaces to keep their products from becoming grey market merchandise. Additionally, Channel IQ monitors and manages counterfeits, to safeguard WTB from product and brand erosion, supporting WTB's commitment to upholding their consumer's trust and delivering the best possible buying experience. Channel IQ's service reinforces WTB's allegiance to its dealers, with confidence in authorized dealers providing superior service and products. With over 30 successful years in the business, and a commitment to highly reliable products, WTB relies on Channel IQ's services to protect their pricing policy, protect their customers from counterfeit goods, and now protect their brand's integrity.
"We are pleased to be working with an industry innovator like WTB," says Jim Streibich, CEO of Channel IQ. "Their vision and thought-leadership in the bicycling industry, combined with the adoption of Channel IQ tools to monitor and manage their distribution, prove their commitment to supporting their retail channels."
About WTB
Founded in 1982, WTB was formed in the birthplace of mountain biking to design better bicycle products. Renowned for saddles, tires, rims, and grips, this rider-driven company continues to push the boundaries of what's possible through an unrelenting spirit of innovation and passion for two-wheeled adventure. For more information visit: http://www.wtb.com.
About Channel IQ
Channel IQ offers the leading suite of online retail intelligence solutions to manufacturers and retailers; providing real-time, online promotion and pricing information that empowers major manufacturers and retailers to quickly and profitably handle channel issues and competitive situations. Only Channel IQ combines integrated reporting, interactive applications, and managed services to enable manufacturers and retailers to automatically act on real-time data. Channel IQ solutions are the result of cutting edge technology combined with decades of industry experience in channel management, distribution, online retail and manufacturing. For more information, visit http://www.channeliq.com.