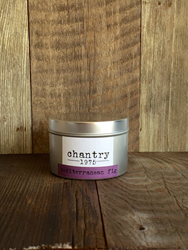 We call Tobacco our George Clooney candle because it's both rich and sexy!
(PRWEB) September 07, 2016
Los Angeles-based Chantry 1975 (http://www.chantry1975.com), in association with The Artisan Group®, will showcase on display and gift its signature hand poured soy candles, with a coconut twist, at GBK's 2016 Primetime Emmys Celebrity Gift Lounge. The Gift Lounge takes place September 16-17, 2016 in Los Angeles, California.
Corinne Fry-Rich is the founder and chief chandler at Chantry 1975. A former special effects make-up artist and the designer of a line of handbags featured in the pages of Lucky Magazine and sold to numerous celebrities, Corinne has developed a proprietary soy/coconut wax blend from which all the company's hand-poured candles are made. The combination creates a uniquely long-lasting, fragrance loaded candle with a very clean burn.
"We're so excited to be participating at GBK's Primetime Emmys gift lounge," said Corinne. "This is the perfect opportunity to introduce our new hand-thrown ceramic containers, which are perfect for the holidays, and showcase new scents like Formula 75 and customer favorites like Mediterranean Fig."
For the Artisan Group exhibit at the Primetime Emmys Gift Lounge, Corinne selected five different fragrances to display.
The top-selling Mediterranean Fig Candle Tin (retail $16.00) will be front and center as one of the company's signature fragrances. Corinne says this rich-smelling candle gets a great response from noses of all types. In addition to being on display, it will be gifted to celebrities as part of The Artisan Group's signature black swag bag.
Fresh Cut Grass (retail $42.00) and Tobacco (retail $30.00) are current scents that are receiving a fresh new look for the holidays. Both will be poured in hand-thrown ceramic containers adorned with crystal agates. Once the candle has burned out, the containers can be repurposed to hold succulents or as décor for home or office.
"We call Tobacco our George Clooney candle because it's both rich and sexy," laughed Corinne.
Corinne says she also excited about Formula 75, a new scent made with yummy almond, clove and patchouli. Rounding out the display is Chantry's Grapefruit Glass Candle (retail $26.00).
Corinne founded Chantry 1975 in 2014. Prior to that she was the owner and designer of Corinne Rene Handbags (featured in Lucky Magazine) and a special effects makeup artist. She has a chemistry background in color development, which she put to use while formulating ceramic glaze in her family's ceramic factory. "Design, fragrance, cosmetics and ceramics are my life," she says.
Every Chantry 1975 candle is handcrafted in the Chantry 1975 studio and most come in a variety of sizes and containers. The company also sells its own hand-poured glass crackle coasters and reproduction vintage ceramic items. For every item sold, Chantry's partner company the Eden Project plants five trees in Ethiopia, Haiti, Madagascar or Nepal to bring back land that has been deforested.
Chantry 1975 can be found in boutiques around the country, including Blue Tree NY, which is owned by Phoebe Cates and Belle's Nest in Sierra Madre. Corinne is a vendor at the popular Jackaloupe Arts Fair, and Artists and Fleas. She is a proud member of The Academy of Handmade and The Artisan Group.
Interested parties may contact Corinne directly for further information. Become a fan of Chantry 1975 on Facebook, Twitter, Instagram and Pinterest (@chantry1975).
For more information about The Artisan Group, visit theartisangroup.org.
Neither Chantry 1975 nor The Artisan Group is in any way associated with The Academy of Motion Picture Arts and Sciences, The Hollywood Foreign Press Association, MTV, or The Academy of Television Arts and Sciences.
ABOUT CORINNE FRY-RICH AND CHANTRY 1975
Corinne Fry (http://www.chantry1975.com) started her artistic career at the age of 17 as a make-up artist in the film and fashion industry. After working closely with a well known costume designer in Los Angeles, Corinne caught the design bug in 2000 and started Corinne Rene Handbags.
The unique design combined with impeccable craftsmanship translated into immediate success for her line, which was carried by Fred Segal and boutiques all over the country. Celebrities such as Fergie and Carrie Underwood were all big fans of Corinne Rene. In 2008 Lucky Magazine came calling and did a story on Corinne featuring her makeup career and the success of the accessory line.
Corinne currently manages a ceramic business and using her art background and attention to detail develops custom glazes as well as color development for the ceramic industry. She spends her days in the lab mixing and formulating ceramic glaze, her nights developing custom fragrances and her weekends studying at the Institute of Art and Olfaction, which helps with her inspiration for Chantry 1975.
ABOUT THE ARTISAN GROUP®
The Artisan Group® (http://www.theartisangroup.org) is a premier entertainment marketing group dedicated to representing small business artisans at the best celebrity gift lounges and press events. The organization provides a collective sampling of handcrafted products to celebrities and members of the press at top luxury gift lounges such as those leading up to The Academy Awards, The Golden Globes, The MTV Movie Awards and The Primetime Emmys.
The Artisan Group also coordinates product placement of its member's handcrafted products on such hit television shows as The Voice, The Vampire Diaries, Days of Our Lives, The Young & The Restless, Modern Family, Jane The Virgin and Law & Order: SVU, among others. Membership in The Artisan Group is juried and by invitation only.