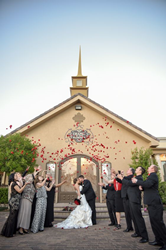 Valentine's Day at Chapel of the Flowers is undoubtedly the ideal day to exchange vows for the most romantic of romantics
LAS VEGAS (PRWEB) February 13, 2020
The famous Chapel of the Flowers in Las Vegas today announced that 60 couples are scheduled to say their "I dos" on Friday, February 14, a fitting number for the Chapel's 60th anniversary, with many more expected to walk down the aisle during the three-day weekend of love. Chapel of the Flowers is also partnering with Las Vegas Convention and Visitors Authority (LVCVA) to host the "What Happens in Vegas, Only Happens Here" photo booth from Valentine's Day through March 1st. The photo booth will be located in the covered guest waiting area for photo opportunities.
Award-winning Chapel of the Flowers has earned accolades from The Knot, Wedding Wire, Trip Advisor and The Las Vegas Review-Journal Best of Las Vegas poll for providing impeccable service at affordable prices in its elegant indoor chapels and exquisite outdoor settings.
The history of Valentine's Day might go back as far as A.D. 270, but the tradition of exchanging Valentine's Day notes began in America in the 1700s. Valentine's Day 2019 was one of the most popular days to get married in Los Angeles in 2019, a wedding tradition that may have gained traction in Las Vegas back in the 1950s or 1960s. Celebrities who have tied-the-knot on Valentine's Day in recent years include actress Salma Hayek, Motley Crue drummer Tommy Lee, Interscope co-founder Jimmy Iovine and actor Benedict Cumberbatch, making the trend of February 14 weddings more popular than ever.
Fans of Carrie Underwood may recognize the historic Victorian Chapel at Chapel of the Flowers in her music video "Last Name" and business mogul Sir Richard Branson served as best man for a UK couple recently. Glass Gardens, Magnolia and La Capella are other unique and upscale wedding chapels at Chapel of the Flowers.
All-inclusive wedding packages are still available for Valentine's Day and start at just $299.
"Valentine's Day is undoubtedly the ideal day to exchange vows for the most romantic of romantics," said Donne Kerestic, CEO at Chapel of the Flowers. "Whether it's an intimate elopement or an elaborate Bella Eleganza wedding package for up to 88 guests, our team of on-site staff members is fully dedicated to creating a ceremony that the couple will remember forever." 
Media is invited to attend Chapel of the Flowers between 7am and 7pm on February 14 to cover weddings and vow renewal ceremonies. Chapel of the Flowers is one of the only venues in Las Vegas with a dedicated staff of on-site florists, photographers, videographers, wedding planners and coordinators and a full fleet of state-of-the-art limousines and chauffeurs. Please contact the chapel at 702-735-4331 to provide estimated arrival time for news crew, or email arrival time to michelleg@littlechapel.com or media@littlechapel.com.
About Chapel of the Flowers 
Chapel of the Flowers, located at 1717 Las Vegas Boulevard South, is celebrating its 60th anniversary the entire year of 2020. Over a quarter of a million weddings and vow renewals have taken place at Chapel of the Flowers since 1960, making this one of the most popular wedding chapels not only in Las Vegas but the entire world.
The stunning indoor and outdoor chapels seat between 20 and 88 guests, and receive top ratings from couples around the world as well as from local residents of Las Vegas. 
Founded in 1960, Chapel of the Flowers is Las Vegas' highest rated and largest full-service wedding venue, providing traditional, modern and elegant Las Vegas weddings on the world-famous Strip. An acre of cobblestone-accented grounds and vibrant backdrops are designed to capture every picture-perfect moment of a Las Vegas wedding. Professional wedding planners, part of a team of nearly 100 on-site staff members, ensure that every aspect of the wedding day is personal, easy and stress-free. Chapel of the Flowers' impeccable customer service assures the couple that all details of the wedding, including the ceremony, flowers, award-winning photography and reception venues will result in cherished memories for a lifetime.
Chapel of the Flowers is honored to be one of the preferred venues in Las Vegas, the wedding capital of the world.
Media Contact
Michelle Goldberg, Marketing Manager
Chapel of the Flowers
Phone: 702-735-4331
Email: media (at) littlechapel.com