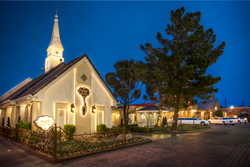 "We work to continually upgrade the beautiful chapels and grounds to ensure each bride and groom gets their ideal wedding venue as well as stunning backdrops for the perfect wedding photos." - Jason Myers, co-owner of Chapel of the Flowers
Las Vegas, NV (PRWEB) February 28, 2014
Premier Las Vegas Wedding chapel, Chapel of the Flowers, located right off the fabulous Las Vegas Strip, has completed a fresh-face makeover in anticipation of a sensational 2014.
First up in the Chapel's renovations, a bright new face adorns the classic Victorian Chapel. With contemporary tastes calling for cleaner lines, Chapel of the Flowers decided to answer by removing the outdated fountain and replacing it with a refreshing new look. Upon arrival, guests will be greeted by tiles of decadent, polished marble as well as an updated logo accentuated with LED backlighting for a stylish look, day and night.
Next, a revamped outdoor Garden Gazebo enhanced with chic glass tiles. Gone are the lattice boards and fencing. Instead, guests are treated to stacked glass tiles encasing the frames and columns of the gazebo. Sophisticated, logo-etched glass panes along the rear create a stunning, illusion backdrop. Custom created and finished, this structure is currently the only glass gazebo in Las Vegas. Couples from all over the world will adore having their ceremony and photos taken in this modern outdoor gazebo.
Co-Owner, Jason Myers says, "We work to continually upgrade the beautiful chapels and grounds to ensure each bride and groom gets their ideal wedding venue as well as stunning backdrops for the perfect wedding photos. Although we are the largest and highest-rated chapel, with 60 years of history, we also want to be the newest with a modern elegant atmosphere."
Many destination couples come to Las Vegas wanting an easy wedding experience but don't want to sacrifice the elegance of a contemporary yet intimate location. With Chapel of the Flowers' latest restorations, they won't have to! This top-rated chapel is confident that their cutting edge renovations will captivate and delight future guests.
About Chapel of the Flowers
Chapel of the Flowers has provided traditional, intimate and elegant Las Vegas weddings on the world-famous Strip for nearly 60 years. It is a full-service wedding venue, with three elegant wedding chapels as well as a beautiful outdoor gazebo and glass garden. Its cobblestone-accented grounds and lush landscaping create a variety of options to capture that picture-perfect moment. The chapel's professional wedding planners work with couples on a daily basis from one-year out to day-of planning.
On-site, Chapel of the Flowers provides fully-equipped white limousines; videography, where a couple goes home with their ceremony DVD that same night; world-class photography, where couples can pick up their photos and view slideshows in its photo gallery the following day; and a full-service florist, making fresh, custom bouquets and flower arrangements on a daily basis. Additionally, the Las Vegas wedding chapel offers live Internet viewing to cater to the destination bride.
Chapel of the Flowers has won numerous awards; including: TheKnot.com "Best of Weddings" (2011 - 2014) and "Hall of Fame"; WeddingWire.com "Bride's Choice Awards" for "Best Wedding Venue: Las Vegas;" as well as the Las Vegas Review-Journal's Readers Pick for "Best Wedding Chapel; and "Best Wedding Chapel" and "Best Website" by the Las Vegas Wedding Awards and Beautiful Bride Magazine. For more information, please visit http://www.littlechapel.com.