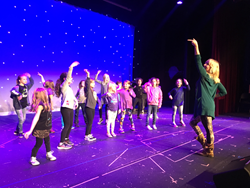 CHAPPAQUA, N.Y. (PRWEB) October 17, 2018
Following the success of its Wicked workshop, Chappaqua Performing Arts Center (ChappPAC) is gearing up for two can't-miss events this November. The 425-seat theater, recently dubbed Westchester Magazine's 2018 Best Musical Venue, will host Tim Kubart and the Space Cadets on Saturday, November 3 followed by a Musical Theatre Technique and Audition Prep Workshop with Broadway star Derek Klena and Tony Award Winner Lindsay Mendez on Monday, November 26.
The recent Wicked workshop saw Westchester youth, ages 7-18, performing highlights from "Broadway's biggest blockbuster" under the guidance of seasoned Broadway performers Arielle Jacobs and Alicia Albright. Learning firsthand from the former Wicked cast members, the young theatre enthusiasts sang, danced and acted to their heart's content to tunes from the celebrated show.
On the heels of the Wicked workshop's success, ChappPAC is offering another unique opportunity for young theatre lovers. Youth age 7 and up are invited to join Broadway veterans Derek Klena and Lindsay Mendez for a special Musical Theatre Technique and Audition Prep workshop on November 26 from 4:30-6:30pm. Klena and Mendez will provide insightful instruction in a fun and encouraging environment. The session culminates with students performing on stage for family and friends and a "talkback session" with the actors sure to provide participants with the rare chance to learn from those successful in the theatre industry. The talkback session is designed to both educate and inspire the next generation of performers and theatre aficionados.
Continuing their efforts to bring music and a sense of community to the kids of Westchester, ChappPAC will also welcome Tim Kubart and his band, the "Space Cadets," for an engaging, interactive set of original songs and stories that is a dance party from beginning to end. Joined by a tap-dancing sidekick, Kubart will perform songs about familiar and iconic childhood experiences with indie flair. Kubart and fellow songwriter Matt Puckett weave their own childhood memories through textured pop tunes that bridge the gap between innocence and wisdom in a way for listeners of all ages to appreciate and understand. The afternoon performance kicks off at 1:00pm on November 3.
The workshop and concert are presented by the Town of New Castle, Standing Ovation Studios, and Soup's On Entertainment. Special pricing for the workshop is available at $50 per student. Tickets for Tim Kubart and the Space Cadets begin at $15.
The Chappaqua Performing Arts Center is located at 480 Bedford Road in Chappaqua, NY, just inside the gate of the former Reader's Digest campus. To purchase tickets, please visit http://www.chappaquapac.org or call 914-458-5143. Follow ChappPAC on Facebook (@ChappaquaPerformingArtsCenter) for the latest news and updates.
About Chappaqua Performing Arts Center
Founded in 2017, the Chappaqua Performing Arts Center was established to provide diverse arts and cultural programming for people throughout Westchester County and the region. Located in the heart of Chappaqua on the former Reader's Digest campus, this amazing 425 seat venue was recently saved from demolition and brought back to life through a unique consortium of municipal and private support. The Chappaqua Performing Arts Center was formed by this consortium to program and present a unique blend of local, regional and national arts and cultural opportunities for Westchester County. Chappaqua Performing Arts Center supports local, Broadway and national artists to showcase their talents for all to see. Visit http://www.chappaquapac.org for additional information.