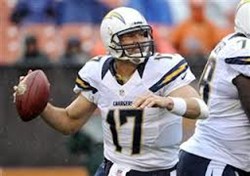 San Diego, CA (PRWEB) July 21, 2013
With less than a week before training camp begins, the San Diego Chargers are making headlines. The Chargers finished second in their division last season, but with a record of 7-9. It is very possible that their only competition in the AFC West will again be the Denver Broncos.
One of the biggest stories of the Chargers for this year is Ryan Matthews. Matthews was drafted by the Chargers in 2011, but has missed ten games in three years due to injuries. Entering his fourth season in the NFL, this will probably be his biggest year. Matthews is a great, fast player, where talent is not an option. But his health has clearly been an issue in the past. Luckily, head coach Mike McCoy is going to give him another chance. It will be no surprise if Matthews gets the start this season. Let's just hope he stays healthy enough to stay on the field.
Another top story for the Chargers is that of Manti Te'o. earlier this summer in mini camp, Te'o has proven himself to players and coaches why he was a favorite for the Heisman last year. The question now is will he continue to impress once the season starts. The linebacker is predicted to start in 2013, and although he has a lot to learn, will prove to be a great pick in years to come.
Of all the questions that come along with the San Diego Chargers, the biggest is of their quarterback Phillip Rivers. The Chargers have missed the playoffs three years in a row now, and Rivers stands as the team's hope for a playoff season in 2013. Rivers will have a new, strong offensive line this year, and can easily return to being a playoff team. Their offense is looking good, and the defense even better. The team also is run by a new coaching staff, which should help the team out a bit. Every team in the NFL has a chance of making the playoffs, and this season just might be the Chargers comeback year. Rivers and the rest of the team are excited for what the new coaching staff and season might bring, and they all have high hopes and expectations for one another. To be at Qualcomm stadium in San Diego to watch your favorite team excel in 2013, visit http://www.Chargerstickets.co, the number one stop for Chargers tickets on the web. At the site, customers will find the best deals on Chargers tickets, because there are no service fees! The site also offers fans a chance to stay connected and interact with other Chargers fans on the social media hub, which includes Facebook and Twitter pages, videos to watch, and an active Chargers blog. Visit http://www.Chargerstickets.co today to buy your tickets and see what all the hype is about!