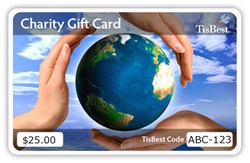 It really gets our employees engaged in the company's corporate giving program.
Seattle, Wash. (PRWEB) July 25, 2013
TisBest Philanthropy released a white paper today examining a new trend in employee recognition gifts. Businesses are increasingly combining employee length of service awards with corporate charitable giving, according to Jon Siegel, Executive Director at TisBest.
A recent example is Bellevue, Wash.-based Buildingi, a technical services consulting company. Company founder and CEO Bill Nolan said the company has always been committed to giving back to the communities in which it has a presence, primarily in the form of cash contributions and paid time off for employees to pursue volunteer activities.
He recently instituted a new program combining charitable giving and length of service recognition. Employees are awarded a TisBest Charity Gift Card worth $100 for each year of service to the company. The funds on the donation card are provided by the company, but the employee gets to select up to three charities from the TisBest website to receive the money.
"It really gets our employees engaged in the company's corporate giving program," Nolan said. "Now the causes that are supported are those chosen by the employees. And after several years of service, the amounts become very significant."
Buildingi employs 70 people, primarily in Bellevue but also in other cities in the U.S. and in Costa Rica.
Reno, Nev.-based IGT has been giving TisBest Charity Gift Cards as employee length-of-service awards since 2012. IGT sends email versions of the TisBest Charity Gift Card to qualifying employees on their employment anniversary days.
"We wanted to engage our customers in our corporate philanthropy," said IGT's Corporate Social Responsibility Manager Chrissy Menicucci. "This system enables IGT to make the donation, but give our employees discretion over where the money goes. We think this is an excellent way to use some of our corporate philanthropy dollars and to empower our employees at the same time."
Download the complete white paper at http://www.tisbest.org/downloads/whitepaper-length-of-service.pdf
About TisBest Philanthropy
TisBest Philanthropy is a 501(c)(3) nonprofit organization dedicated to fostering the growth of non-material gift-giving. TisBest created charity gift cards in 2007. Charity gift cards work like conventional gift cards, but with one important exception: the recipient of a charity gift card "spends" it by choosing a charity to receive the funds.
With a TisBest Charity Gift Card, you make the donation and your recipient decides how to spend the donation, choosing from TisBest's 300+ charity partners. Learn more at http://www.tisbest.org.