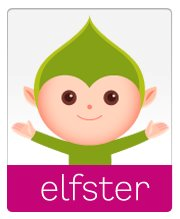 Through this gift exchange, Elfster users will be able to help support these kids as they learn to support themselves.
New York, NY (PRWEB) April 30, 2015
Elfster.com, the top-rated Secret Santa generator, is proud to partner with First Place For Youth to offer a Charitable Gift Exchange for kids preparing to leave the foster care system throughout California. First Place is a non-profit organization which serves foster kids who have the greatest needs in the community, helping them find their way as adults and build a foundation for a bright future. Historically, a great percentage of kids leaving foster care end up homeless or in jail.
"We are looking for generous people willing to send a gift to a young adult facing the challenges of growing up without a family who can be there for them," explained Peter Imburg, CEO of Elster.com. "Through this gift exchange, Elfster users will be able to help support these kids as they learn to support themselves."
To learn more about this innovative charitable gift exchange partnership, please visit http://www.elfster.com/blog/an-opportunity-for-you-to-help/. There, one can read in-depth about the partnership as well as learn more about First Place for Youth.
To learn more about Elster's innovative technology, including its applicability to charitable gift exchanges, please visit http://www.elfster.com/. There, one can browse the gift guides for unique gift ideas, and create an account and wish list.
Charitable Gift Exchanges
Elfster.com supports year round gift giving and gift exchanges, as well as a feature to create wish lists. Recipients in this charitable gift exchange will create a wish list and will be paired with a gift giver in this Secret Santa style online exchange.
While the most famous example of a gift exchange is, of course, Secret Santa, the technology on which Elfster.com is based has many applications throughout the year. Common applications are online community gift exchanges, corporate gift exchanges, and the use of charitable gift by nonprofits to raise funds or materials for needy individuals or families.
Last year Elfster users joined together to support children with serious medical issues. These helping hands made an enormous and direct impact. Elfster is looking forward to serving the needs of the youth of First Place, which believes in setting high expectations for the young people they serve, and hold themselves accountable to those same high expectations. Together organizations can make a difference for these special kids.
About Elfster.com
Elfster is the Web's top-rated online Secret Santa generator. Participants use the company's service to organize a holiday gift exchange of any type, learn Secret Santa rules or how to play, organize family, office, community or friends' gift exchanges and generally keep track of your holiday or Christmas gift exchange all conveniently online. Elfster makes it easy, free, and fun!
Elfster.com
http://www.elfster.com/