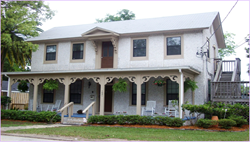 It's a shame that so many women face brutal violence from those who should be showing them love, instead... But it's wonderful that there are organizations and individuals out there who truly care about their wellbeing
Brunswick, GA (PRWEB) October 16, 2014
Dunagan Insurance Group debuts a new charity campaign in its recognized Community Program in Brunswick, GA, and announces that will direct its efforts to raise funds for the Amity House, a shelter dedicated to helping victims of domestic violence and their children. The Amity House helps create an escape safety plan to leave their abuser. Donations are being accepted through the campaign's page at http://www.gofundme.com/amityhouse.
"It's a shame that so many women face brutal violence from those who should be showing them love, instead - husbands, brothers and even fathers," said Rob Dunagan, the Agency's principal. "But it's wonderful that there are organizations and individuals out there who truly care about their wellbeing, and are willing to help them create a new reality for themselves."
Through the agency's network of customers, business partners, friends, staff and family, the initiative helps bring awareness to domestic violence. Dunagan Insurance Group will employ its valuable resources and reach out to the community, so that the $400 goal can be met. The campaign will be promoted over the course of the next 30-60 days, through the agency's social media channels, email and text message communications, as well as through their monthly magazine, delivered to thousands of households in Georgia, where the agency currently operates. Our Hometown magazine reserves a full page to feature this campaign, and other details. The electronic Flipbook version of the current issue can be accessed here: http://www.gaflood.com/Our-Hometown-Magazine_34.
Those with a heart for helping the community, and bringing awareness to important subjects, such as domestic violence, are not only encouraged to visit http://www.gofundme.com/amityhouse, but also to share the page with friends and family. The agency will acknowledge those who contribute in their monthly magazine.
The Community Program held by Dunagan Insurance Group will continue to highlight and support people in need in their community. Every 30-90 days, a new campaign will be launched, in collaboration with local non-profits and community members. Through the agency's website, an open channel is also now open, where individuals can submit information on known families or persons who could use some help – http://www.gaflood.com/SUBMIT-A-COMMUNITY-CAUSE-IDEA_42. All entries are submitted for review, and the elected worthy causes are properly contacted by a representative of Dunagan Insurance Group's Community Program. More information regarding past and current campaigns supported by Dunagan Insurance Group can be found at http://www.gaflood.com/community-cause.
About Dunagan Insurance Group and The Captain Bob Foundation
Dunagan Insurance Group has been providing professional insurance services in Brunswick, GA, and the surrounding areas since 1969 including flood, auto, homeowners, condo, landlord insurance and more. To contact an expert at Dunagan Insurance Group, call (912) 265-6626.
The Captain Bob Foundation is a tax-exempt, 501(c)(3), non-profit, donor-supported organization, founded by Dunagan Insurance Group's principal, Robert Dunagan Jr., and inspired by his father's values and principles of utilizing the outdoors to treat and relief conditions and hardships faced by local children and families. The organization serves as a strong platform to support the ongoing efforts of the Agency's community programs, which are made possible through contributions from individuals, corporations and foundations.