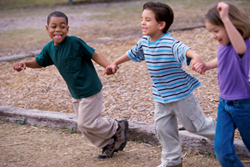 Miami, FL (PRWEB) October 16, 2014
With agencies in South Florida, North Carolina and Texas, ProVest Insurance Group celebrates the beginning of a new charity campaign as part of its ongoing Community Program, now looking to raise enough funds to provide a safe playground for foster children in South Florida. In collaboration with Our Kids of South Florida, the agency announces that those with a heart for supporting the overall wellbeing and developmental necessities of children in need can now join the agency's efforts by contributing through the designated donations page at http://www.gofundme.com/kidscomefirst.
As attested by the state of Florida, there are at least 750 children within the state available for adoption without an identified family on any given day. Every day, an average of seven kids in South Florida alone are removed from their homes due to abuse or neglect. As a consequence of not having a suitable family, children are placed in foster care, where they might or might not have the opportunity to nurture their developmental skills.
Jay Adkins, the agency's principal, who has helped touch the lives of many other kids in the communities where his agencies are inserted, attested, "We want to make sure those little ones currently in foster care are not being deprived of opportunities to just be kids, and to explore their own talents and abilities… With this new playground, we hope to put a smile on many faces and plant some curiosity in them, so they can look forward to building a great future for themselves one day!"
The agency has set a goal of $500, which will allow for the purchase of an appropriate playground set. To achieve that goal, the agency's network of customers, business partners, friends, staff and family are being invited to actively participate by not only contributing financially, but also by helping spread the word to others.
ProVest Insurance Group continues to employ its own resources to ensure the success of their community program. The current campaign is being promoted through the agency's social media channels, email and text message communications, as well as through their monthly magazine, delivered to thousands of households in Texas, North Carolina, and South Florida. In fact, Our Hometown magazine reserves a full page to feature this worthy cause, including all of its details. The electronic Flipbook version of the current issue can be accessed here: http://provestinsurance.com/Our-Hometown-Magazine_10.
The donations page at http://www.gofundme.com/kidscomefirst will be kept active until the end of November, where donors can contribute. The agency will acknowledge in their monthly magazine all of those who donate a minimum of $5 to help with the purchase of the safe playground set.
ProVest Insurance Group will continue to work with individuals and nonprofits in the area to identify new worthy opportunities to support the community, every 30-90 days. Through the agency's website, any members of the community can also submit information on known families or persons who could use some help – http://provestinsurance.com/Submit-A-Community-Cause_25. Entries are diligently submitted for review, and the elected worthy causes are properly contacted by a representative of ProVest's Community Program. More information regarding past and current campaigns supported by ProVest Insurance Agency can be found at http://www.provestinsurance.com/community-cause.
About ProVest Insurance Group
ProVest Insurance Group's mission as a team is to provide the best insurance and financial services in the industry. Their number one job is to protect the current assets clients have worked so hard for, and to help them invest so they can retire with the right amount of money. ProVest's success is measured by customer satisfaction and the value they bring. The capable agents at ProVest can be easily reached at 1-855-298-7427.