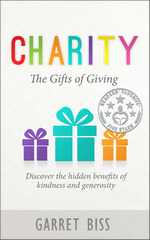 My purpose for this book was to inspire more involvement with charity and selfless acts in everyone's life.
New Bern, N.C. (PRWEB) May 06, 2015
Avid philanthropist and budding author Garret Biss recently released a thought-provoking new book entitled "Charity The Gifts of Giving." The unique book reveals how charitable giving, kindness and acts of generosity have an impact not just on recipients, but also on donors. Giving time, money and other resources generates positive energy, feelings of gratitude, a sense of control and many other benefits, according to Biss, who serves in the military at Marine Corps Air Station Cherry Point in Havelock, North Carolina.
In the vein of his pro-philanthropy message, Biss is using some of the proceeds from the book to benefit others. He has pledged to donate 100 percent of the profits from all May book sales to help the victims of the earthquake in Nepal, where more 1.4 million survivors were left with no shelter, food or clean drinking water. Proceeds from all May book sales will be donated to a Nepal earthquake relief fund established by charity: water, a nonprofit organization that focuses on bringing clean and safe drinking water to people in developing nations. Biss is urging others to join his efforts and has posted a video on YouTube with more information.
Charitable giving is a concept that everyone understands and often engages in, but people seldom consider—and discuss—the positive effect that practicing benevolence has on donors. This is the main impetus behind "Charity The Gifts of Giving," says Biss. "My purpose for this book was to inspire more involvement with charity and selfless acts in everyone's life," he says. "If speaking about how these acts benefit us is one way to inspire greater generosity, then this is a story that must be told for the benefit of each of us and all of us."
"Charity The Gifts of Giving" is designed to focus on a different perspective on philanthropy. The book contains a wealth of insights and information to help readers capitalize on the benefits of charitable giving. For example, it discusses how generosity can help combat anxiety and manage stress, practical ways to give on any budget, websites that help donors give quickly and easily in any way they choose, and how to create a more fulfilling life experience and more joyful interaction with others.
Biss's book is available at Amazon.com, where it is already being well-received by readers. Here are just some of the favorable comments from reviewers:

"I have already recommend this book to many of my friends and will continue to. It's amazing how a simple act of kindness can promulgate happiness to everyone around the giver and the recipient, the message. I this book is simple but speaks volumes to the reader." (Justin Lopez)
"This is an inspiring, honest look at the impact of giving and generosity on one's personal perspective, mindset, and life." (Dawn Michel)
"Biss shares a very interesting and unique spin on the act of giving and contribution. I especially liked the idea of making donations as a way of overcoming stress and even depression." (Coach Bobby G)
"After reading his book, I'm closer to walking in my purpose and he simply explains why we all should give of ourselves in order to make this a better world. So, take the opportunity to read this book, and your life just simply can't be the same." (Corey Prudie)
"This was a great read and a great reflection on what is at the heart of giving." (C and J)
"Charity The Gifts of Giving" is available on Amazon in three formats: Kindle for $3.99; audible audio edition for $6.08; and paperback for $8.95. The proceeds from each copy sold will be used to further the efforts of One Million Goal Inc. Established by Biss, One Million Goal Inc. is working to generate enough money and awareness to make a difference with the world's water problem. As signified by its name, the goal of the non-profit organization is to bring drinking water to one million men, women and children. The need is great, as almost 750 million people lack access to clean drinking water and an estimated 1,700 children die every day from water-related illnesses before they reach their fifth birthday.
Biss has concentrated much of his philanthropic efforts toward addressing the world's water crisis. His passion in this area is fueled by his belief that water is the most basic of human needs. Biss feels water is not only a necessity for life, but is also vital for making the world a better place. "Even if you have the seed, the soil and the sunshine, the miracle of life doesn't begin until you add water," he says. "Fighting tyranny, poverty or disease will provide no enduring cure for suffering if we don't start by providing water."
There is also a broader issue at stake, Biss says. "Not only is the water crisis a thirst issue, it is also a gender equality issue, a health issue, a poverty issue, an education issue, a terrorism issue, as well as many more issues," he explains.
To learn more about Biss's efforts to combat the world's water problem, please visit http://www.onemilliongoal.org.
For more information about "Charity The Gifts of Giving" and the benefits of charitable giving,
call 252-349-0054 or visit http://amzn.to/1JbN2o7.
About Garret Biss
Garret Biss is the author of "Charity The Gifts of Giving" and the founder of One Million Goal Inc. Biss is passionate about encouraging charitable giving, fighting the world's water crisis and promoting lifelong learning. He also has a deep interest in the real estate industry. Currently, Biss is in the U.S. Marine Corps, where he has served his country since 1999 and is a KC-130J pilot by trade. In preparation for his transition from military service, Biss is pursuing a Master of Real Estate Development degree from Auburn University and intends to use this education and his experience as an investor and real estate broker to prepare for a future as a real estate developer and real estate investment manager. Biss, who grew up in Wilmington, Del., currently resides in New Bern, N.C.
###