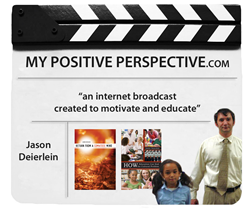 we hope that this year's event will be the best ever
Charleston, SC (PRWEB) December 02, 2014
On December 2, 2014, My Positive Perspective host Jason Deierlein was joined by local culinary expert Michael Finnell for an episode announcing this year's annual Toys for Tots Gala. Deierlein begins the episode by asking Finnell, "I understand that you have agreed to be in charge of this year's Toys for Tots Gala, what sort of things can one expect to see at this year's Gala?" Finnell answers, "This year's 14th annual Gala put on by the Marines and it starts with a six foot long Christmas tree that guests are asked to bring an unwrapped toy to put under. As normal the event features music, beverages, and food."
Deierlein then asks Finnell, "Does the fact that you are a chef and you are around food so much change the way you plan for the food to be prepared." Finnell answers, "Yes, it has been brought to my attention that the food has run out previously and because of this, I thought more vendors were needed to donate food." Finnell then allows time to mention some of the great sponsors for this year's Gala.
Deierlein then concludes the episode saying, "Every child deserves to get at least one present on this special day." Finnell adds, "The generosity of this town is beyond expectations. By the end of the event, we will have numerous presents to distribute to children throughout the Lowcountry. This year's event takes place at Harbor side East, and we hope to make this year's event the best one yet."
My Positive Perspective is a media outlet believing that improvement in our community will be best achieved by focusing on the good things happening in our world today. Having survived a near fatal car accident as a youth, a shift of perception forced one to have a mentality of always concentrating on the brighter sides of things. This was true, and in my book, Return From a Comatose Mind, this belief was put to the test. Appreciation for life was the biggest thing one took away from my brush with death, and it is because of that gives me such a huge desire to be helpful to many. My Positive Perspective is a way of overcoming challenges through positive thinking.