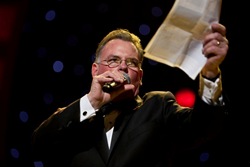 Jake Javier is a wonderful young man who faces a challenging road ahead and we are asking the community to come together to provide much needed support.
Danville, CA (PRWEB) August 18, 2016
Steve Haworth, of Charity Auction Fundraising, LLC, it was recently announced, will be the auctioneer for a live auction that will benefit high school football star Jake Javier. Javier, the captain of the San Ramon Valley High School football team, suffered a severe neck injury in a tragic swimming pool accident in June that left him paralyzed from the chest down. The accident occurred one day before he was scheduled to graduate with honors.
"Jake Javier is a wonderful young man who faces a challenging road ahead and we are asking the community to come together to provide much needed support," said Haworth, who has over 19 years of experience conducting live auctions for over 150 nonprofits, endowments and schools. "We will be hosting the JaviStrong Gala and live auction at the Blackhawk Museum on August 27 to raise money for Jake and his family. We are also offering an online auction from August 22-27 for anyone who is unable to attend."
Auction packages will include exclusive trips, unforgettable experiences and unique sports memorabilia. All proceeds from the event will be donated to the Javier Special Needs Trust, which was created to assist Jake and his family through the challenging road to recovery.
Auctions conducted by Haworth have been attended by over 20,000 high-profile donors and have helped various nonprofits raise in excess of $20 million. Notable events at which Haworth has acted as auctioneer include the 2010 Justin Timberlake Shriners Hospital for Children Open, 2011 Tiger Woods Foundation "Tiger Woods Invitational" held at Pebble Beach, 2012 GRAMMY MusiCares Person of the Year Awards honoring Paul McCartney, 2012 Barry Zito "Strikeout for Troops" benefit and the 2013 Faces for Autism held at the Ritz Carlton Half Moon Bay.
To purchase tickets for the JaviStrong Gala or to donate directly, please visit http://www.JaviStrong54.com. To enter the JaviStrong54 online auction beginning August 22, please visit https://allstarshelpingkids.ejoinme.org/MyEvents/TheJaviStrongAuction/tabid/797788/Default.aspx
About Steve Haworth, Charity Auction Fundraising, LLC
Steve Haworth successfully helps nonprofits, endowments and schools raise money to maintain their current levels of service or to expand their reach to those in need. Steve is not only the consummate professional auctioneer, able to conduct high-energy and high-revenue live auctions, but also provides a unique service in his role as a consultant, understanding and assisting charitable organizations in all business aspects of their "gala" events. Charity Auction Fundraising, LLC provides professional auctioneering services, revenue stream development consulting, auction lot development consulting and more. For more information, please call (925) 389-7714, or email Steve(at)TracyToyota(dot)com.
About the NALA™
The NALA offers small and medium-sized businesses effective ways to reach customers through new media. As a single-agency source, the NALA helps businesses flourish in their local community. The NALA's mission is to promote a business' relevant and newsworthy events and achievements, both online and through traditional media. For media inquiries, please call 805.650.6121, ext. 361.