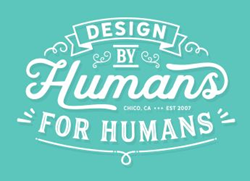 Chico, CA (PRWEB) August 23, 2016
Online retailer Design By Humans (DBH) has launched a brand new fundraising platform to assist charities with their fundraising efforts. On the DBH platform, nonprofits can now sell their merchandise on a variety of products including T-shirts, tank tops, sweatshirts, phone cases, stickers and art prints with no upfront cost.
On the DBH charity platform, nonprofit organizations can fundraise for their cause through two website features. The first is by setting up a campaign with limited edition merchandise that's for sale between 7 and 21 days. The second is by setting up a DBH storefront that's open all year round. No matter what route the nonprofit chooses, DBH will print, pack and ship the finished products to customers and will handle all customer service.
DBH also offers the option for nonprofits to work with professional artists to create artwork for their campaigns at no cost. Nonprofits earn 25% of proceeds for on-demand products sold in their store and 33-41% of proceeds for campaign items sold depending on the volume of sales.
DBH is committed to producing shirts that are environmentally friendly and are guaranteed to be sweatshop and child labor free. The goal of their charity initiative is to make the world a better place, through creativity, generosity and the promotion of goodwill.
"The foundation of Design By Humans has always been to empower independent artists from all over the world by offering them a platform to make a living from what they love to do: Make art," says Community Manager, Cassie Presentati. "But with our new charity fundraising platform, we're ready to do something bigger and more far-reaching than we've ever done before: Help change the world."
You can support DBH's featured charities at http://www.designbyhumans.com/charity.
Any nonprofits interested in fundraising for their cause through the DBH platform can sign up here or inquire by contacting charity(at)designbyhumans(dot)com.
About Design By Humans
DBH is a talented group of creative types inspired by the world around them. There are over 15,000 artists in the DBH collective, and they are constantly bringing new designs to life; these designs can then be purchased on anything from stickers and wall art to phone cases and T-shirts. The on-demand print style allows consumers easy access to unique designs, and artists are provided with an excellent space in which to display their work.
Design By Humans has created a culture full of a vibrant creative spirit that is expansive and inclusive. They are a passionate society filled with artists of all styles and ideas.
Design By Humans is online at http://www.designbyhumans.com, and can be followed on Facebook at /DesignByHumans, on Instagram @DesignByHumans, with #designbyhumans, and on Twitter @DesignByHumans.