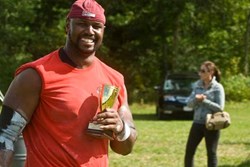 It's amazing to see people achieve things they never thought they could.
Rumford, RI (PRWEB) October 18, 2013
Strength Fest 2013 is an amateur strongman competition hosted by 212 Health and Performance to benefit the K-Rob Foundation, a local charity whose mission is to help students in East Providence, RI participate in athletic programs. The event will take place at 212 Health and Performance in Rumford, Rhode Island on Saturday, 11/2/13 beginning at 9:00AM with participant weigh-ins and rules. The individual events will start at 10:00AM.
Kerry Taylor, founder of 212, believes that the benefits of regular exercise reach far beyond how a person looks. "We train for life at 212. We train your body to be stronger and healthier, and we promote the idea that each individual is capable of more than he/she probably realizes." Several members of the 212 team have competed in other strongman competitions around the country and it has become something that many of the members have taken a considerable interest in. With that, Taylor decided to host Strength Fest, 212's own competition with weights and events that would tempt many of the members of the gym to try. "It's amazing to see people achieve things they never thought they could. We love being a part of that."
Taylor also has a strong place in his heart for youth participation in sports. As a former NFL player, he knows how much participating in athletics has taught him over the years. "Every child should have access to sports. Finances should not prohibit participation." That is where friend and pro BMX rider, Kevin Robinson, and his charity the K-Rob Foundation come in. Their mission is to positively transform the lives of deserving children in the East Bay and surrounding communities. Helping one family at a time, the K-Rob Foundation provides financial assistance to get kids involved (and stay involved) with athletics as a means for them to learn discipline, focus, teamwork and healthy living habits. 75% of all proceeds of Strength Fest will be donated to the K-Rob Foundation.
For more information about Strength Fest, visit the event page or call 401-383-5959.
About 212 Health and Performance:
212 Health and Performance is built on the premise that within each of us lies the ability to push beyond what we think possible. True progress lies between the familiar and the unfamiliar. When the temperature of water raises just one degree it is transformed from water to steam and its ability to power, transform and create change is generated. This is our philosophy. That going just a bit further, taking one more step, lasting one extra second will mean the difference between same and change. Everyone is here for a different reason, this is your journey, this is your change. 212 Health and Performance. Powered by You.