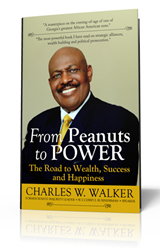 All should read his book to see how to prevail and thrive in the most difficult of circumstances.
Augusta, GA (PRWEB) March 09, 2015
For over 30 years former Senator Charles W. Walker has dedicated his life and career to public service. Not only did he serve five terms in the Georgia House of Representatives and six terms in the Georgia State Senate, but he was the first African American chosen to serve as Senate Majority Leader; the second-highest elected position in the Senate Leadership. And it is based on his profound personal journey, going from being the son of a poor sharecropper in the South to a successful politician and businessman, that inspired him to write this fascinating motivational memoir now available on Amazon and BarnesandNoble.com, "From Peanuts to Power: The Road to Wealth, Success and Happiness" (Reklaw Publishing, March 2015).
"There are a lot of big issues causing fear and frustration in America today, such as increased terrorism globally, political parties divided, racially-charged criminal cases, and on-going poverty struggles. So I wanted to share the knowledge that I have obtained through hard knocks, training, setbacks, and from learning what preparation can do for you, to inspire people to move forward through their fear and adversity," says Walker. "I hope to show readers the 'distance traveled' can be long and treacherous but success is achievable if you would just believe in yourself."
In his book, Walker describes: his challenging childhood; working tough jobs in his young adulthood, such as a Peanut Salesman; to how he eventually became a political powerhouse and successful entrepreneur. Throughout this compelling story, Walker also includes his insights on the importance of wealth accumulation to escape the poverty trap, the steps to achieve it, and 36 key life lessons he has learned for overcoming extreme adversity.
Early readers and reviewers agree that his book is one not to miss. Roy E. Barnes, 80th Governor of Georgia, shares, "The story of Charles Walker is the story of the American dream. Raised in poverty in a large family, he overcame obstacles that would have destroyed an ordinary man. All should read his book to see how to prevail and thrive in the most difficult of circumstances."
Connie Stokes, Former Senator and Dekalb County Commissioner, offered this after reading it, "This is an amazing book and a compelling story of rules for a successful life-woven together with insight and inspiration. In his fast paced book Walker grabs the reader and takes off with lesson after lesson about his extraordinary journey from peanuts to the very pinnacle of power. This one definitely gets the must read nod."
Walker has retired from politics, but he is far from "retired". In addition to now being an Author, he is also an in-demand Motivational Speaker, Political Analyst, and colorful (often controversial) media guest.
As a speaker, Walker is asked to conduct keynote speeches for a wide variety of audiences, including: college students, corporate employees, church groups, legal & political professionals, small business owners, entrepreneurs, and professional association groups.
And through his social media networks Walker shares tips, advice and commentary on success, business, entrepreneurship, leadership, wealth building and political issues. He can be followed online at: Facebook.com/CharlesWalkerInc; YouTube.com/CharlesWalkerInc; and Twitter @CWalkerInc.
To learn more about Charles W. Walker, visit his website: CharlesWalkerInc.com. The book can be ordered now on Amazon and BarnesandNoble.com.
For media interviews, speaking inquiries, or book information, please contact his Publicists: Deb Bailey, at 1-501-617-5304 (CST) or email PowerYouMedia(at)gmail(dot)com, or Lisa Orrell at 1-408-340-8789 (PST) or email Lisa(at)PromoteUGuru(dot)com.
Book Info:
Title: "From Peanuts to Power: The Road to Wealth, Success and Happiness"
Format: Hardcover and eBook
Release Date: March 16, 2015
Publisher: Reklaw Publishing
Pages: 186-pages, hardcover with photos, $26.00 USD
ISBN: 9781939288967
LCCN: 2015931567