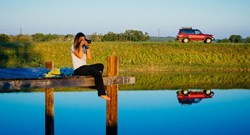 Austin, TX (PRWEB) November 14, 2013
Courtney Slade, local photographer and publisher of the popular website SladesWake.com, has loaded up her Toyota Land Cruiser and hit the road on a tour of the Western United States. Slade will be documenting life in and around different bodies of water this fall with the support of Charles Maund Toyota.
Making her Toyota FJ80 Land Cruiser her home, Slade will travel to various bodies of water, both those well-known and others not so known throughout the
western part of the United States. Her purpose will be to document, explore, experience and share life along the water's edge. The end result will be published in Slade's newest photography book.
"I have always been inspired by travel. I believe it is one of our greatest teachers in life," said Courtney Slade. "My hope is that through my photography and
experiences on the road I can inspire others to pursue their dreams and what they are truly passionate about. I am so grateful that Charles Maund believes in my vision and is helping me make it happen."
As Austin's only locally owned Toyota dealership, Charles Maund Toyota continues to support local businesses and entrepreneurs like Courtney Slade. With their rapid growth they still pride themselves on being local. They recently led the AIDS Walk of Austin through downtown and participated in the Prius Project.
For more information visit Courtney's road trip campaign page, Charles Maund
Facebook page or Charles Maund Twitter.