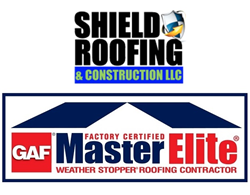 With more than 40 years of combined experience in the construction industry, we promise and provide out clients with superior workmanship and high quality products no matter what their roofing or construction needs are. - Jose Cabrales, President, Shield
Charleston, WV (PRWEB) July 11, 2016
Shield Roofing and Construction, (http://www.wvroofingcompany.com/) GAF Master Elite Roofers, opens new 3,500 sq. ft. showroom filled with products to fit every clients' plans. As GAF Master Elite Roofers, Shield Roofing and Construction of Charleston, West Virginia is ranked among the top three percent of roofing contractors in the country for service, reliability, and performance. GAF status means Shield Roofing meets stringent GAF criteria including state licensing and insurance, a solid reputation, and an ongoing commitment to extensive technical training.
At the new location in the expansive new showroom, this commitment to excellence can be clearly seen, filled with premium quality products and staffed with experts, Shield Roofing and Construction welcomes clients to come in and uncover the perfect products for their next project. Offering virtual tours, as well, the expert Shield team can help clients make the ideal selection for their home or business.
"When Shield Roofing & Construction LLC opened its doors in 2012, it was with the intention of providing the Tri-State Area with fast, affordable, high quality roofing and construction services. With more than 40 years of combined experience in the construction industry, we promise and provide out clients with superior workmanship and high quality products no matter what their roofing or construction needs are." - Jose Cabrales, President, Shield Roofing and Construction
Shield Roofing and Construction proudly serves the greater Charleston area, including Huntington, St. Albans, Kanawha City, Kermit, Logan, Barboursville, Winfield, Point Pleasant, Nitro, Elkview, Bridgeport, Clarksburg, Hurricane, Dunlow, Teay's Valley, Milton, Cross Lanes, Weston, Parkersburg, Scott Depot, Ripley, Ravenswood, Wayne, and Kenova; as well as the Kentucky communities of Ashland, Greenup, Grayson, Catlettsburg, Bellefonte, Cannonsburg, Ironville, Flatwoods, Morehead, West Liberty, Inez, Louisa, Olive Hill and the Ohio communities of Ironton, Coal Grove, Wheelersburg, Gallipolis, Portsmouth, Kitts Hill and all of Lawrence County. Delivering exceptional quality and unparalleled service, Shield Roofing and Construction promises a customized solution to each and every client. In addition to outstanding commercial and residential Charleston roofing services, Shield Roofing and Construction delivers excellence in siding and gutter installation and repair.
Shield Roofing and Construction, founded on the promise of quality roofing and service at affordable prices in a timely manner. Since 2012, the company continues to build on that foundation, looking forward to many more years of serving the tristate area with honest, dependable products and services.
About Shield Roofing and Construction
Shield Roofing and Construction has served the greater Charleston, West Virginia region and surrounding Ohio and Kentucky communities since 2012. The original goal was to assist local homeowners in getting the best quality roofing for their homes. The company expanded quickly and now provides commercial roofing services as well as installation and repair of siding and gutters.
Shield Roofing & Construction LLC, 200 Hale St, Charleston, WV 25301 - http://www.wvroofingcompany.com/ - Phone: (304) 344-7663 Fax: (877) 298-9294