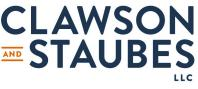 Motivating others to understand and embrace a vision that has a positive impact on others – that's what inspires me to be a leader
Charleston, SC (PRWEB) May 19, 2014
Local attorney Chris Nickels recently completed the rigorous and prestigious 10-month program, Leadership South Carolina. The premier leadership program, the state's oldest, fosters an understanding of the state's most pressing issues. Each year, just 50 participants are selected to take part in the highly competitive program.
Nickels, a partner with Clawson and Staubes, says he was inspired to attend Leadership South Carolina after serving on a local leadership committee and seeing what a difference a group of focused individuals can make.
"Motivating others to understand and embrace a vision that has a positive impact on others – that's what inspires me to be a leader," says Nickels. "A vision is not always an individual goal. Sometimes it's a collaboration or evolution of foresight. Being able to establish, share and communicate that vision is how I define leadership."
During 120 hours of instruction, Leadership South Carolina teaches students to identify assets and areas in South Carolina that need to improve. Each class focuses on a specific project related to the state's challenges. Nickels and his classmates focused on literacy.
"Our mission is to serve as a catalyst for change by uniting public and private resources to tackle this challenging issue facing many of South Carolina's children," says Nickels.
To help increase graduation rates, the class worked to identify low performing schools and then fund them with a Leveled Literacy Intervention (LLI) program. "Our mission was to empower and positively impact these children," says Nickels. LLI provides teacher training and professional development; students in the program receive 30-minute, intensive lessons that combine reading, writing and phonics/word study.
"I will continue to advocate and work to implement education reforms that benefit our state's students," says Nickels. "We need to establish an education system that effectively measures student growth and achievement, honors the rich history and diversity of South Carolina and implements targeted interventions that yield returns on the state's education investments."
After Nickels graduated from an affiliated program in 2006, Leadership Charleston, he was "ready to take it to the next level." Since then, he's served as town councilman for Mt. Pleasant and on blue ribbon committees formed by local government leaders to assess public education East of the Cooper. Participating in Leadership South Carolina taught him that a combination of strategies is needed to shrink the achievement gap, as is making sure South Carolinians embrace the benefits of educating youth and actively support improvements financially and programmatically. "For me, this means the creation of partnerships between public schools, our communities and businesses. I want to be a participant in the process and not a mere spectator," says Nickels.
Leadership South Carolina also provides increased access to an informed network of diverse colleagues, peers and mentors from across the state. "I now have many new opportunities to become involved with and bring about positive change in our state," says Nickels. "As a trained leader, I look forward to opportunities to identify South Carolina's strengths and areas to improve."
About Clawson and Staubes
Headquartered on Daniel Island, Clawson and Staubes, has been providing legal services to the Charleston area for 38 years. Clients range from large insurance companies to local banks, small business owners and individuals. The firm currently employs 38 attorneys and 52 support staff and has offices in Charleston, Columbia, Charlotte and Greenville. For more information about Clawson and Staubes, visit clawsonandstaubes.com.