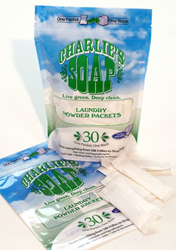 Think of a large sugar packet that doesn't look like candy
MAYODAN, N.C. (PRWEB) March 23, 2015
Charlie's Soap, an American manufacturer and marketer of laundry products and household cleaners, has entered the single use, pre-measured laundry detergent fray. With a twist.
Rather than choose the "plastic" colorful pods that could attract the attention of children, Charlie's Soap Packets are wrapped in a "cellulose paper" that completely dissolves in any washer. This is a major shift away from what can be considered as industry-standard pods.
"We took careful note of the potential hazards inherent with the 'pods' used by other brands," states Taylor Sutherland, President of Charlie's Soap. "We knew that our loyal customers were interested in a single-use pre-measured product, but we didn't want to subject them to the pitfalls of the colorful pods that look like candy. Our Packets are simple to use without all the bright colors that attract the attention of inquisitive children."
Charlie's Soap Packets will be widely available through both on line sales and retail distribution. "We are pleased to announce that several grocery chains including Ingles, EarthFare are already stocking the Packets," Sutherland continued.
All of Charlie's Soap laundry products are Earth friendly and made with a long-standing commitment to quality. Our products are made in the USA, biodegradable and hypoallergenic. There are no fragrances or other additives that can leave harsh residues in fabrics. Charlie's means that clothes are simply left with the sweet smell of clean.
As a family owned and operated company, Charlie's Soap makes a full line of laundry products and household cleaners. The Laundry Powder is well known for deep cleaning fabrics without harsh chemicals. The Laundry Liquid offers the same environmentally safe deep clean in a convenient liquid form. In response to our customers' requests, there is a Laundry Booster, Oxy Bleach and extremely effective Pre-Spray.
In addition to the laundry line, Charlie's offers a powerful Indoor/Outdoor Surface Cleaner to be used for the toughest messes and a convenient spray-on, wipe off Kitchen & Bath cleaner for daily household chores.
Charlie's Soap products were initially formulated for the textile industry. A need arose for a high-power cleaner that could clean greasy machinery without requiring the use of gloves or other safety equipment to protect the workers. Through careful chemistry, the original Charlie's Soap was conceived. It was so popular with the folks using it at work that the companies found their stocks diminishing as employees helped themselves to it for use at home. With that, Charlie's Soap was born.
Charlie's Soap is based in Mayodan, North Carolina. All manufacturing takes place under the careful eye of the family to ensure that quality and efficacy are maintained without fail. The full product line is genuinely made in America.
For more information, product information and all documentation is available at http://www.charliesoap.com. Our staff is available by telephone, 1-800-854-3541.
For more information on the safety legislation:
http://www.durbin.senate.gov/newsroom/press-releases/durbin-speier-introduce-bill-to-address-rising-number-of-poisonings-in-children-due-to-laundry-detergent-packets
http://www.naplesnews.com/news/national/child-poisonings-from-laundry-detergent-packets-prompt-legislation
http://www.chem.info/news/2015/03/legislation-targets-detergent-pods-following-rash-child-poisonings?et_cid=4457345&et_rid=210380568&location=top