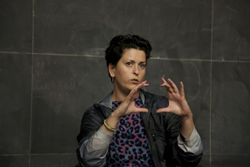 Los Angeles, CA (PRWEB) September 25, 2014
Charlotte Cotton is the 2014 -15 Critic-in-Residence at Otis College of Art and Design and will talk about her recent research and projects that explore photographic practices evolving in light of Web 2.0.  
Cotton will focus on two areas of her research; one that proposes terms with which we can talk about photographic properties in our current media ecology, and the second about how contemporary artists are navigating this dynamic terrain.  
Her forthcoming book, Photography is Magic, will be published by Aperture in summer 2015 and the first chapters of her book, Photographic, will be digitally published during the spring 2015 while in residency at Otis College of Art and Design. 
 
Cotton is the author of The Photograph as Contemporary Art and founder of Words Without Pictures and eitherand.org. She is the former curator of photographs at the Victoria and Albert Museum and head of programming at The Photographers' Gallery in London. She also headed the Wallis Annenberg Department of Photographs at the Los Angeles County Museum of Art.
Co-presented with Santa Monica College with support by Santa Monica Associates.
There is limited parking at the Broad Stage and guests are encouraged to park at the Santa Monica Public Library on Santa Monica Blvd and 7th street. Metered parking along Santa Monica Blvd and neighboring streets is free after 6pm.