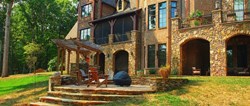 Our name has become a symbol of quality, craftsmanship, and passion for stone and masonry work in the charlotte, NC region. We are fully licensed, bonded, and insured for our work, and ensure that you know upfront the project scope, cost, and schedule.
Charlotte, NC (PRWEB) December 18, 2013
Masters Stone Group Expands Force of Stonemasons to Meet Rising Demand in Charlotte
Masters Stone Group, the premier provider of stone masonry and design in Charlotte, NC, announced today the expansion of its team of stonemasons by 50%. The key driver of Masters Stone Group's growth is directly related to the housing recovery and strong demand for outdoor living in Charlotte, NC.
"Homeowners are realizing how wonderful it can be to extend their living space outdoors. We are growing our team to meet that demand," says Mark Correll, President of Masters Stone Group. "There are options to fit any home and budget from stone fire pits and paver patios to full outdoor living rooms featuring fireplaces, kitchens and water features. Whether you're barbecuing or sitting by a cozy fire, its good times."
It's well known that stone adds character, warmth, and elegance to a home and the benefits last a lifetime. But increasing home value is a factor too. Realtor.com®, in its October 2013 Housing Summary, wrote: "The U.S. housing market is in a completely different position than this time last year, with solid price increases, steady inventory and strong demand continuing well into the fall season." Charlotte NC is no exception, which explains why people are comfortable making investments in home additions and enhancements today.
Expanding its force to keep pace with demand enables Masters Stone Group to continue providing superior services to the Charlotte area. "We do get lots of 'oohs' and 'ahs' when projects are complete," Correll laughs. "But we invite you to view our portfolio to see for yourself. Most of the projects featured on our website are in Charlotte," he adds. "People are surprised at the wide range of options we offer and how skillfully our master stonemasons bring their dreams to reality."
Areas in which the company specializes include: Ballantyne, South Charlotte, Lake Wylie, South Park, Matthews, Lake Norman and Waxhaw. "We aspire to remain the leading company for outdoor living in Charlotte," says Correll. "We are specialists in stone pavers, flagstone patios, concrete pavers, stone patios, fireplaces and outdoor kitchens in Charlotte – you name it, if it has to do with stone, we can get it done – even pizza ovens. Our name has become a symbol of quality, craftsmanship, and passion for stone and masonry in Charlotte. We intend to keep it that way."
About Masters Stone Group
With over 20 years' experience in the custom home building and stone masonry field, Masters Stone Group specializes in the art of selecting, designing and installing natural and manufactured stone in Charlotte, NC, and surrounding areas. Masters Stone Group is fully licensed, bonded and insured for all work completed. For more information about all types of stone masonry and the leading stonemasons in Charlotte, please call 704-968-7177. Visit the website at http://www.mastersstonegroup.com.