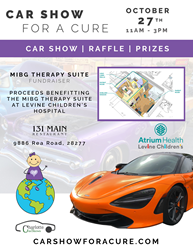 100% of the funds raised will help provide a comfortable and customized experience for all families who undergo MIBG therapy at Levine Children's Hospital.
CHARLOTTE, N.C. (PRWEB) October 17, 2018
This event is in support of the ISF MIBG Ambassador program, and will be a gathering/car show to be enjoyed by both owners and the public. Visitors will have the opportunity to vote for their favorites in the following categories: Stock, Custom and People's Choice. Prizes will be presented to the winners. We have a great afternoon planned with local cars, music, a raffle, and candy for the kids to trick or treat.
CAR SHOW REGISTRATION:
If you are a car owner and are interested in participating, please email kevin(at)charlottecarshows.com with
your name and the following related to your vehicle: Year/Make/Model/Color

Registration is $25 per vehicle and can be paid online or the day of the event. If you'd like to pay the day of the event, please email us in advance so we can plan accordingly.
RAFFLE INFORMATION:
There will be a raffle held at 2:00pm open to the general public. Tickets can be purchased at the event and will be collected in buckets that correspond to the various items. 10 Tickets = $20 (please bring cash). Winners will be randomly chosen and announced, and will not need to be present to win.
RAFFLE ITEMS:
$100 Gift Card to 131 Main
$150 Gift Card to Swoozies
Visa Gift Cards
& More!
The event will take place in the parking lot of the 131 Main Restaurant in the Blakeney Shopping Center
located at:
131 Main Restaurant
9886 Rea Rd
Charlotte, NC 28277
Questions can be emailed to kevin(at)charlottecarshows.com. We hope to see you there!