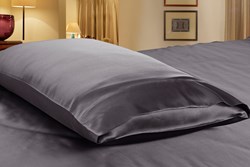 Get ready with our fashionable range of holiday essentials.
Midland, TX (PRWEB) November 12, 2013
As a leading and reliable bedding store, Lilysilk has a vast knowledge of craftsmanship and customer needs, which has helped the company develop a great brand of silk bedding. Its charmeuse silk pillowcases are the best-selling products in the current market. Mike Lee, CEO of Lilysilk, reveals that the company will launch a big promotion on its pillowcases.
It seems that people have been waiting for the door bust sale on Lilysilk website since the beginning of November. Christopher, a middle-aged man, wrote an email to Mike Lee, and asked that when the promotion would start. "I love Lilysilk products very much. I bought a pair of pillowcases last year, and they are really smooth and soft. I want to try sheets this time. I am waiting for the Black Friday sale."
Lilysilk aims to satisfy customers' needs by offering high-quality silk products, such as sheet sets, comforters and pillows, blankets and coverlets, at competitive prices. All their products are handcrafted from 100% pure silk, which contains 18 kinds of amino acids that are beneficial for body and skin.
"In order to extend our gratitude to new and returning customers, we have already launched a big promotion for Thanksgiving Day. Customers could browse our website to find the delicately designed sheets at discounted prices. Of course, we will have special offer on Black Friday. And we will choose many more products for sale. Get ready with our fashionable range of holiday essentials." says, Mike Lee.
In addition, the company offers 45-day risk-free guarantee of returning products. People could feel assured to purchase at Lilysilk.com.
About Lilysilk
Lilysilk is a well-known bedding store, which aims to satisfy all customers' needs by offering a large range of high-quality silk sheets, comforters and pillows, at affordable prices. Feel assured to buy luxurious and comfortable silk sheets at Lilysilk.com.
More information about Black Friday Sale can be found here: http://www.lilysilk.com.