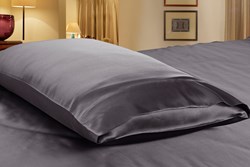 We should have in mind that charmeuse silk pillowcases are best gifts for people around us.
Houston, TX (PRWEB) December 10, 2013
As usual, people are spending time choosing gifts for friends and families, or choosing some luxurious and healthy things for decorating their bedrooms before Christmas. Lilysilk Bedding Store, a leader in the current silk bedding market, has introduced its premium-quality silk pillowcases to new and returning customers. 100% pure and natural silk pillowcases are the best gift choices for Christmas.
As is well-known that silk pillowcases from Lilysilk.com are manufactured with 100% pure and natural silk. Besides, these pillowcases are famous for their refined tailoring, delicate designs, and exquisite craftsmanship. However, a pair of silk pillowcases at their website in 19mm version is only priced $90 for queen size. According to Mike Lee, the company has also launched a big promotion on its pillowcase collections. Customers can get a free silk eye mask when they order silk pillowcases, besides, they will get 10% off if they buy 6 pillowcases at one time.
"There are no worry about what should be sent to our friends. High-end and luxurious silk pillowcases can remove your worries well. According to our research, more and more people are likely to purchase silk products for their beloved families and friends on different occasions. We should have in mind that charmeuse silk pillowcases are best gifts for people around us," says Mike Lee.
Last week, Lilysilk conducted a research on the net to find out what gifts people want to receive at Christmas eve. More that half of participators presented that they wanted to receive the silk pillowcases. Because they said that, "Silk pillowcases are not expensive, but very beneficial for skin and hair."
Lilysilk.com is a trustworthy silk bedding store on the net, which aims to offer best silk products for home decor at competitive prices. More information about silk products and their discounts and savings can be accessed at: http://www.lilysilk.com/.