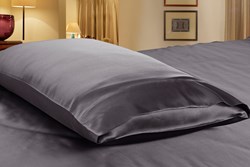 To offer customer the best benefits of silk, Lilysilk has opted to use Charmeuse as the weave of choice for all of its pillowcases.
Freeport, IL (PRWEB) January 11, 2014
Lilysilk, the leading online retailer of silk bedding linen and sleepwear from China, has just announced its Charmeuse silk pillowcases as the company's flagship product. This is the first time Lilysilk has announced a flagship product, and it is speculated that Lilysilk will be devoting more resources towards its further development.
Lilysilk's silk pillowcases are made from 100% long-strand Mulberry silk, cultivated directly from the silk farms in Hangzhou, China, the city responsible for up to 50% of the world's silk production each year. To produce silk of the desired momme weight, Lilysilk's workers first pick out the suppler, more uniform fibers from the bundle of raw silk fibers for their stronger tensile strength and better luster; the silk fibers are then treated with great care in completely natural and chemical-free procedures developed in ancient China to ensure the silk does not contain potential chemical irritants that may cause harm to the human skin. The silk threads are then placed on a special loom and weaved into seamless Charmeuse silk fabric that span over 3 meters in width.
Sleeping on silk pillowcases has been scientifically proven in the medical community to be an effective and almost effortless way to improve facial skin smoothness and hair silkiness, due to silk's innate ability to regulate moisture as well the smooth surface reducing unnecessary friction. To offer customer the best benefits of silk, Lilysilk has opted to use Charmeuse as the weave of choice for all of its pillowcases. Considered to be the most elegant weave since ancient times, Charmeuse silk has an extremely smooth and lustrous surface that few other fabrics can rival, despite also having a dull back and being relatively fragile. Lilysilk realizes that smoothness, being one of the key factors in facial wrinkle prevention, is one of the most important criteria that customers often base their purchase decision upon; thus choosing Charmeuse seems to be the most logical choice, as the dull side is well hidden and using high momme weight silk offsets the fragileness of Charmeuse silk considerably. In fact, the feedback the company received in the past year had been overwhelmingly positive, with most customers praising the pillowcases for its "unrivaled softness" and comparing the experience of sleeping on them with "sleeping on a cloud". Less than 0.1% of all customers complained about pillowcases being "easy to break"/"too fragile".
Lilysilk.com currently offers pillowcases in three different silk quality levels, namely 19 momme, 22 momme and 25 momme. Higher momme weight indicates higher quality of silk which, in turn, translates to better durability and longer lifespan. Readers can visit http://www.silk-pillowcase.com for more information on how to choose the best silk pillowcases, or visit http://www.lilysilk.com/Silk-Pillowcase-6-c to see Lilysilk's selection of silk pillowcases for themselves.