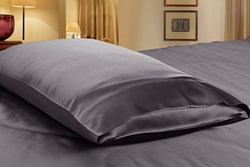 There's nothing more meaningful than sending female friends silk products, such as silk pillowcases, scarves and pajamas.
Houston, TX (PRWEB) February 13, 2014
Lilysilk, a distinguished online store for silk bedding wares, has recently introduced its high quality and delicately designed silk pillowcases to ladies to help them enjoy all romantic nights. The company has launched a promotion on the silk pillowcases. Customers who buy 6 pieces of silk pillowcases in 22momme weight will save 20% off on the total prices.
Women form an integral part of the Lilysilk community. According to Mike Lee, CEO of the company, they announced this promotion to express their gratitude to women friends for their everlasting support and love. They will spare no energy to offer high quality products and items for customers as before. "Of course, male friends will enjoy the same treat." he added.
It is never a secret that Lilysilk Bedding Store insists on only using 100% pure mulberry silk made in China to weave into their products. All their silk bedding wares, including silk sheet sets, comforters, blankets, mattress toppers, etc, are featuring acceptable prices, high qualities, fine tailoring, and can help customers to improve their life levels. In addition, all colors and sizes listed on the website are in stock and ready to ship.
Mike Lee was excited, saying, "There's nothing more meaningful than sending female friends silk products, such as silk pillowcases, scarves and pajamas. These items are not so expensive. And we also launch promotions on the pillowcases to acknowledge our female customers....Housewives and mothers are the most important females in our lives, and never forget them."
Lilysilk would like to explore the market and dig out many more products for customers. What's more, the company offers the 45-day no-risk money-back return policy. Goods can be shipped back only if they are not washed and used, and in their original packages. More information about this store and its promotions can be found at: http://www.lilysilk.com/